Understand Gilan
Gilan is one of the three green provinces spread along the Caspian Sea. To add more details it is the most-western province in the south of the Caspian Sea. The capital of Gilan or Guilan is Rasht. The Very known city for its diverse and delicious foods. As proof, let me tell you that Rasht gained the title of The Creative City of Gastronomy from UNESCO.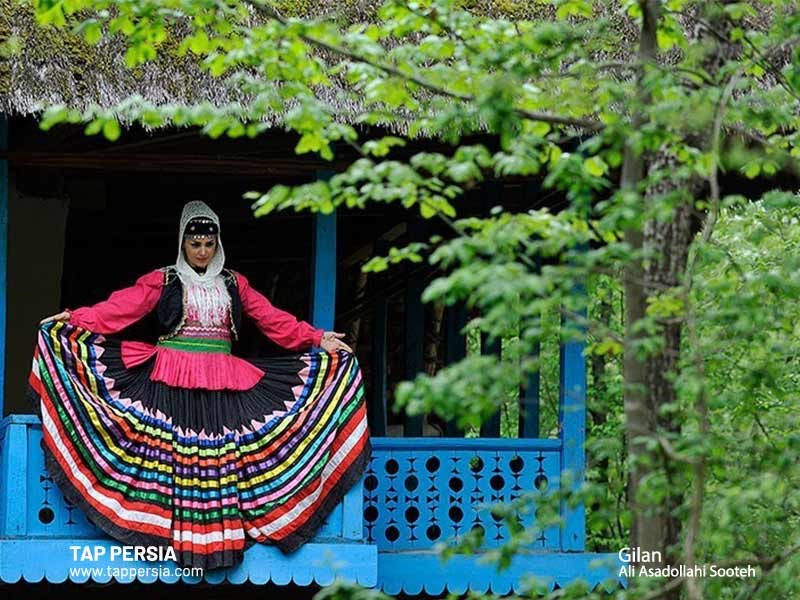 Aside from the varied and yummy foods in Gilan, this province is highly rich in traditions and cultural activities with lots of historical backgrounds that have left historical Heritages to marvel at. Above all this region with its mild and fresh climate is full of natural surprises; Flowing waterfalls and rivers, lush forests, amazing wildlife, and lots of green mountains to climb and enjoy the marvelous beauty of mother nature.
This province even is so popular among Iranians. It's not such a long distance from Tehran, making it a great destination for many Tehrani people to pay a visit and refresh whenever they have some days off. So together let's take a look at the amazing things you can do, eat and enjoy while your stay in this amazing province, Gilan.
GET AROUND GILAN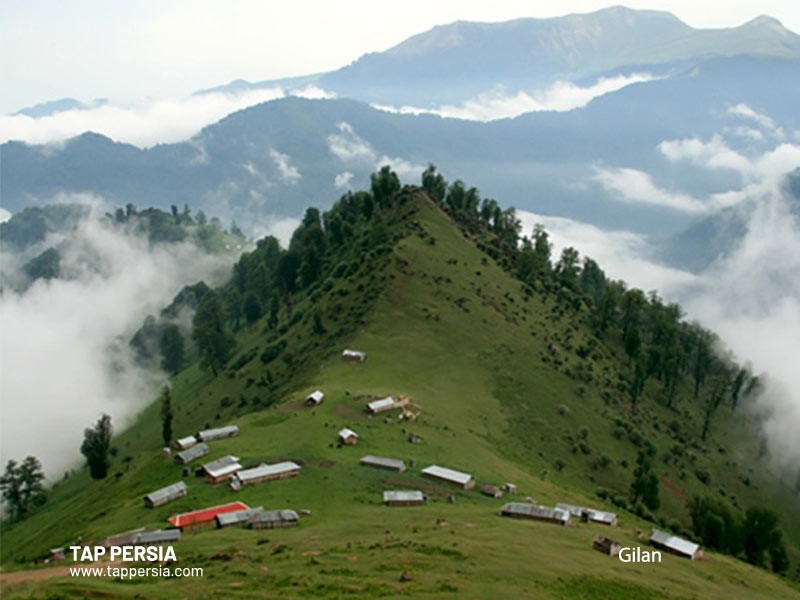 First, let's see how you can get to Gilan. It's only 350KM from Tehran. So if you are in Tehran it only takes you about 5 hours to get there by bus. Wherever spot you are in Iran and decide to visit the North you can easily get a bus or taxi to your destination in this province, for instance, Rasht City.
In Rasht or any other city you might like to get around there are lots of yellow taxis there to help you. You can even use ride-sharing apps such as SNAPP or TAP30 in most of the cities of Giulan to get to where you want. The latter turns out to be cheaper.
Even if you wish to drive on your own through the charming sceneries of this region you can rent a car.
What to See in Gilan and What to Do in Gilan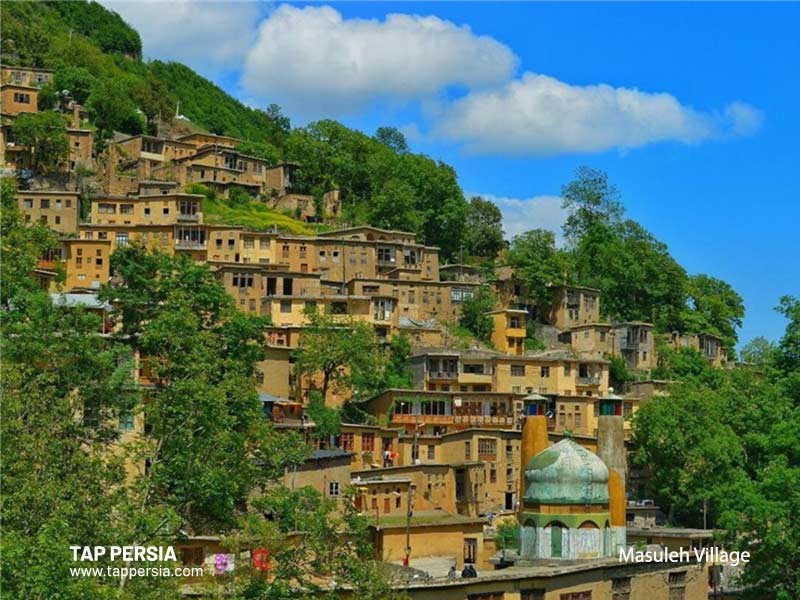 1.Masuleh Village and Its Stepped Houses
The city of Masoleh is located in the southwest of Gilan province and 60 km away from Rasht city. Masuleh is one of the famous sights of Fuman and a traditional and old city that looks more like a painting or a postcard despite the yellow houses in the green background of the forest and colorful mountains in a foggy world. Masuleh is one of the few cities without motorized vehicles in the world, which has made it impossible for any vehicles to travel with narrow garden alleys and steps.
2.Qal'eh Rudkhan (Rudkhan Castle)
Rudkhan Castle, Gilan, is one of the most important historical and military fortresses in Iran, which is located in Fuman city and among the forest trees. This strong and impregnable castle has gone through many ups and downs throughout its history. And it is now considered one of Gilan's most important sights, attracting many tourists.
3.Anzali Lagoon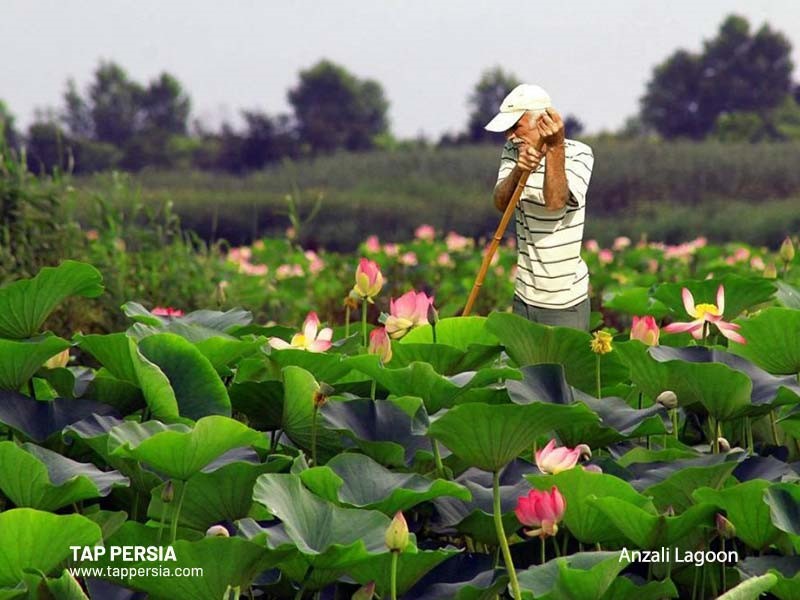 Anzali Lagoon, Gilan, or "Anzali Sal" in Gilaki language, is one of the most beautiful and important natural freshwater wetlands in the country in the southwest of Bandar Anzali city and the Caspian Sea. It is one of the most popular nature tourism destinations in Gilan province. Water lilies, reeds and sea tulips create an amazing view in the lagoon that you will never get enough of. Boating, fishing, and bird watching are some of the most popular activities that you can experience in this area.
4.Saqalaksar Lake
Around the tomb of Agha Seyed Sharif near Shaft city, there are many lakes and many natural attractions that have pristine and exciting nature. Saqalaksar earthen dam has created the biggest lake in this region.
This unique lake is in a forest area, surrounded by a lot of oak trees. With an area of 15 hectares, it is 600 meters long and 500 meters wide and attracts tourists from far and near. The height of Saqalaksar lake is 64 meters above sea level and its water is supplied from atmospheric falls and springs in the region.
5.Boujagh National Park
Bojag National Park (Boujag Lagoon) is one of the protected areas in Kiasher port, Gilan province. This area is the only land-sea park. This park has an area of 3260 hectares. Many birds and animals live in this area.
There are lots of cattle and horses in the park that double the charm of the place. This park is where the Sefidrud River joins the Caspian Sea.
6.Chamkhaleh Beach
The city of Chaf and Chamkhale in Langrod County is one of the most popular tourist destinations in Gilan province. It is known as the second tourism hub of the province after Bandar-e Anzali. Chamkhale Beach is equipped with all kinds of amenities and entertainment; A beautiful and unique beach that creates unforgettable memories for you from your trip to the north of the country. This beach was chosen as the best beach in Gilan province in 2013. Additionally, its activities include picnics, photography, water sports, and swimming.
7.Milash Waterfall
Milash waterfall is one of the most beautiful waterfalls in the north of the country in the village of Milash in the pristine and very beautiful area of Eshkevarat. From Milash village to the waterfall is about a 20-minute walk. It is, for sure, a very dreamy route. It's where you can hear the voice of nature. The route is very pleasant passing through the hazelnut gardens and the meadows of Echium flowers, with a beautiful view of Samamos Peak.
8.Heyran Pass or Gardaneh-ye Heyran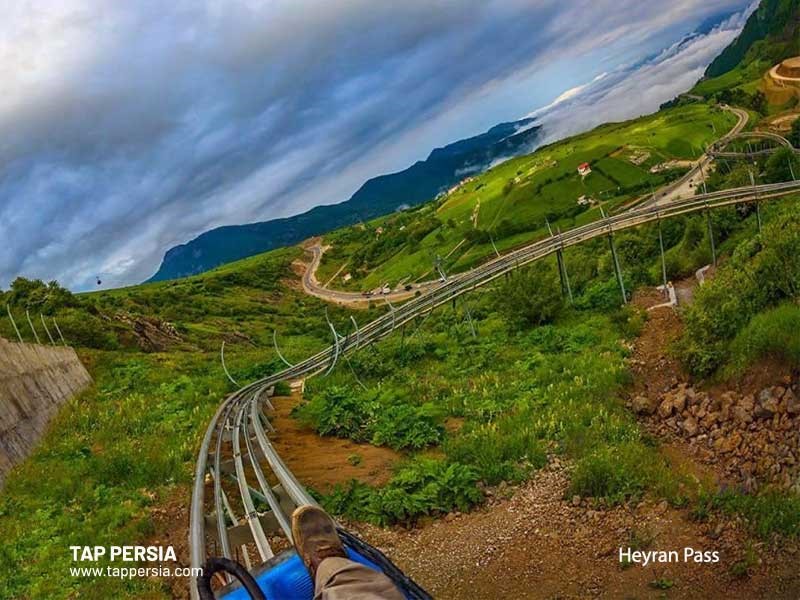 Among all the scenic areas of Gilan province, Hiran Pass is one of the busiest routes. It has great strategic and tourism importance for the residents of this northern province of the country. Heyran Road is one of the sightseeing places in Astara. This pass is located on the communication route between Astara and Ardabil.
It may be interesting for you to know that Heyran literally means "the area surrounded by clouds and fog" and its root comes from Taleshi language; Just like its name, the road is covered with clouds and fog in most seasons of the year. Moreover, it is surrounded by forest on one side and overlooks a relatively deep valley on the other side. Therefore, it has a special geographical location. Fabulously, the Aras River also passes through the valley next to it and is considered the border between the Islamic Republic of Iran and Azerbaijan.
9.Laton Waterfall
In the vicinity of the Spinas mountain and in the middle of a dense forest with lush plants, trees such as plums, peaches, pears, walnuts, hazelnuts, and wild apples, there is a high and spectacular waterfall. You can see the Laton Waterfall from a distance of 500 meters.
This four-season and beautiful waterfall is one of the 30 tallest waterfalls in the world and is known as one of the tallest waterfalls in Iran. The height of the main and upper catchment of Laton waterfall is 105 meters and its width is five meters. Also, the lower catchment is 65 meters with a width of 10 meters. So totally its height reaches 107 meters.
10.Subatan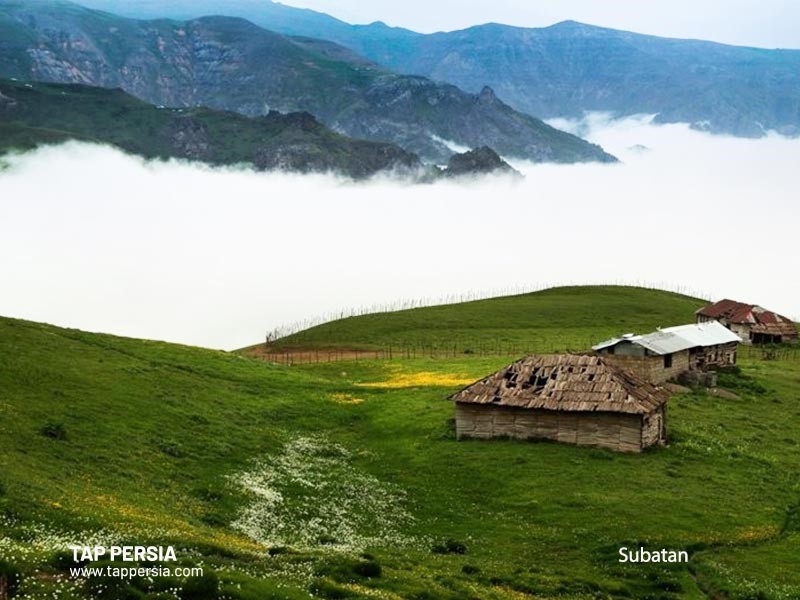 Subatan is one of the famous places of Talesh and is located in the northwest of the city. This village is covered with meadows and flowers and is full of fresh-water springs. And lots of cattle and horses that go around all the time. The old huts with their wooden windows have created a unique view that the idea of such a pristine area in Iran may be far from the mind. A village where there is no electricity pylon, mobile phone antennas, and noise pollution.
Subatan is located at an altitude of 1900 to 2500 meters above sea level; For this reason, it has very cold winters, and even in summers, there are still patches of snow in some high places. This village is also famous for its anemone plains. And finally, It is only 21 km away from Neor Lake.
11.Asalem-Khalkhal Road
The road from Islam to Khalkhal consists of different sections. If you start this route from the city of Asalem, you will first encounter a road covered with forest trees, which is a very winding but beautiful route. After driving for about an hour, the surrounding scenery will change to green plains and you will have a wide range of views.
The nature of this road is very pristine and beautiful, and if you plan to go through this route, it is better to spend some time resting and walking in its forests. The Caspian Sea is close, that's why there is always humidity and fog on the road which of course, gives it a very stunning charm.
12.Gisum Forest
Gisum Forest Park in Gilan province, with a bed consisting of forest and sea beauties, is an ideal destination for travelers to the north of our country.
Gisum recreation area is not just a forest area; Because next to it, there is a pristine beach where you can sit and watch the sea and its beauty for hours. The combination of the forest and the sea together, each containing a world of glory, makes the Gisum region one of the most attractive and main tourist destinations.Shahrdari Square (Municipality Square)
13.Shahrdari Square (Municipality Square)
Rasht Municipality Square was built at the beginning of Reza Pahlavi's reign (1925-1941). It includes a collection of the Municipality Palace, Post Museum, and the old Iran Hotel building. The municipality mansion and its clock tower are the symbols of Rasht city. This building was damaged during the terrible and devastating Manjil earthquake in 1990 and was restored to its original form shortly after by Robert Vahanian.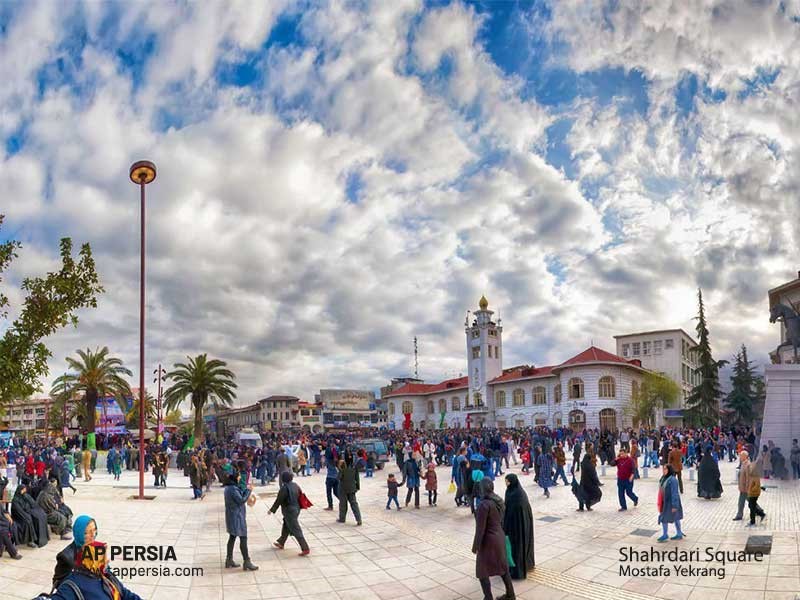 The Rasht Municipality is one of the main and eye-catching attractions of the city, which still has its music group and orchestra.
14.Guilan Rural Heritage Museum
Gilan Rural Heritage Museum is one of the most attractive sights in Rasht. This museum is a great place to learn about the architecture, culture, lifestyle, local foods, handicrafts, clothes, etc. of the people of different regions of Gilan province. 28 residential complexes are located in this museum and other rural spaces such as paddy fields, hay fields, chicken nests, etc. have been reconstructed in it. Gilan Rural Heritage Museum is an unforgettable experience for every visitor.
15.Rasht Grand Bazaar
The traditional Bazaar of Rasht includes the large square, the small square, four arches, and caravanserais, and it is considered one of the sights of Rasht. The architecture of caravanserais and arches in Rasht Bazaar are among the attractions of this lovely market. They sell all kinds of fresh local foods in this traditional market. And the smell of fish and local vegetables is totally in its atmosphere.
16.Lahijan Artificial Lake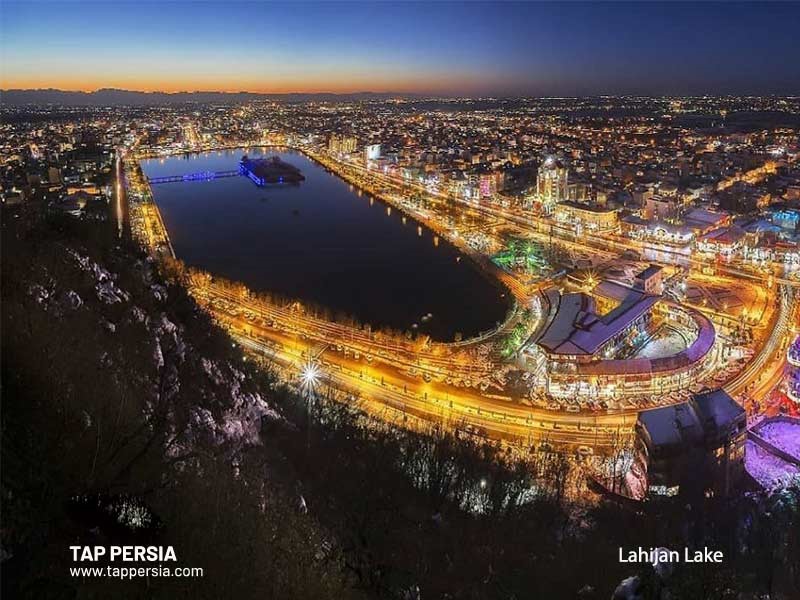 Lahijan Lake is one of the most important places to see in Lahijan. It is located in the eastern part of the city, at the bottom of a green peak called Sheytan Kooh. This lake has an area of 17 hectares and a depth of about 4 meters. In the past, this lake was a water reservoir for irrigating rice fields and was fed by water flowing from the mountain.
In the middle of the lake, there is a beautiful island that is connected to the southern edge of the lake by a long concrete bridge. The edge length of this lake is nearly 2 kilometers. Above all, there is a beautiful boulevard that surrounds the lake, and that feels good to walk around.
17.Mirza Kouchak Khan Tomb
Mirza Kochch Khan Jangali, known as Sardar-e Jangal, is one of the prominent figures in the history of Iran. He died in 1921 and his tomb is located in Suleiman Darab cemetery in Rasht city. This tomb was built with inspiration from the architecture of Gilan province and Islamic architecture. It also has been registered in the list of national heritge of Iran.
What to Eat in Gilan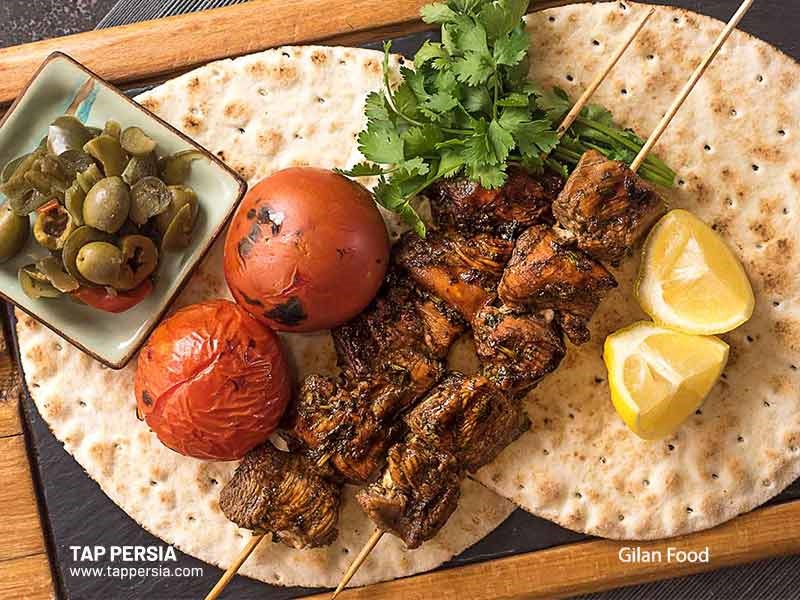 As mentioned before Rasht, the capital of Gilan Province is listed as a creative city of Gastronomy by UNESCO, so there are lots of yummy dishes and sweets to taste here.
Baghali Ghatogh, Shirin Qatoq, Torsh-e Tareh, Kale Kabab, Torsh-e Kabab, Ashpal, Vavishka, Mosamma, Fesenjan, Mirza Ghasemi, Sirvabij, Bademjan Kabab, Chaghardameh and lots of other delicious foods you can experience in Gilan.
Among the sweets, Koloocheh Fuman and Resht-e Khoshkar are the most popular.
Is Gilan a City?
Many confuse Rasht and Gilan that which is the city and which is the province, even some Iranians, unfortunately 🙂 According to what we've been reading, I guess it's totally clear now that the province is Gilan and its capital is the city, Rasht.
And eventually, if you are planning to visit this outstanding province you can check out your tours NOW.