In Iran, food and dessert are known to be delicious. Iranians use food as a way not only to nourish themselves but to preserve their culture and customs as well.
Qazvin is known for having the biggest sweets collection among the cities in Iran. During important ceremonies, these sweets are served. You can take these as souvenirs home as a perfect memento of your journey. The evening tea served with sweets is one thing you cannot miss when you visit Qazvin in Iran!
Sweets Culture of Qazvin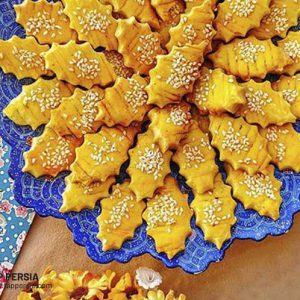 With the varied colors and flavors of nuts and dried fruits together with a desire for sweet flavors, Qazvin sweets have become special and diverse. Housewives in the Qazvin province often bake sweets that vary in color, smell, and flavor during different ceremonies and holidays.
Most of these sweets, along with tea bread, are consumed every day and are usually placed in the afternoon tea tray. Tricolor baklava from Qazvin is the signature sweet of this fragrant cuisine; it is also served with tea at receptions and most cafés and restaurants. It can be said that Qazvin is a "paradise for the stomach" for those who love sweets.
Get to Know Qazvin Sweets
Women of Qazvin and other tasteful people make sweets for weddings and anniversaries to sweeten their palates and give them a special treat with their loved ones. Baking sweets is still a popular tradition among families of Qazvin. Today, with the increasing number of apartments and occupations, these sweets have gone from the house into the back of shop windows. Here are some of the best ones in Qazvin.
Flag Baklava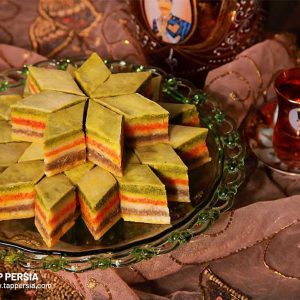 Baklava is a symbol of many Iranian cities: Yazd, Kashan, Isfahan. However, Qazvin baklava is among the neglected delicacies among Iranian dishes. Every layer on the flag represents one of the famous products of the Qazvin traditional gardens. It is a point of contention that the pistachios in Qazvin baklava have to be made there. Because the citizens of Qazvin hold a special opinion about the quality of this pistachio.
Since Qazvin baklava contains high-quality ingredients, its price is high, and so it is very difficult to afford a complete package. However, Qazvin cafes offer you this sweet as much as you desire at a cheaper price.
Paderazi Sweets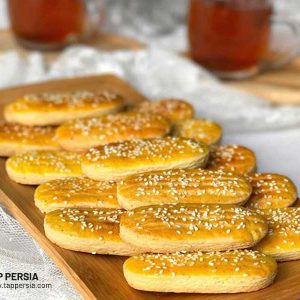 Having a Paderazi with a cup of evening Persian tea is a fantastic way to end the day. In the Paderazi, the taste is dominant. As well as other sweets in Qazvin, here in Qazvin, a snack known as Paderazi has a low level of sweetness, so it is so popular among people. Qazvin Paderazi is made from powdered sugar, pure confectionery oil, eggs, wheat flour, rice flour, chickpea flour, milk, ginger powder, vanilla, saffron, and sesame.
Chickpea Sweets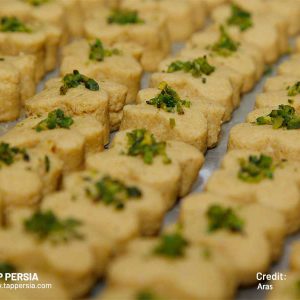 Surely you have tried chickpea bread in every Iran city before. Chickpea bread (or pastry) is of Qazvin origin and is best eaten in Qazvin itself. Chickpea sweets are popular in most cities of Iran but came from the Qazvin province. They are mostly requested on Nowruz and entertaining guests. Chickpea sweet is quick to bake and extremely satisfying. These delicious desserts are typically prepared with pistachios, pea flour, egg yolks, and sugar, and powdered sugar, powdered cardamom, and powdered sugar.
Qazvin Almond Bread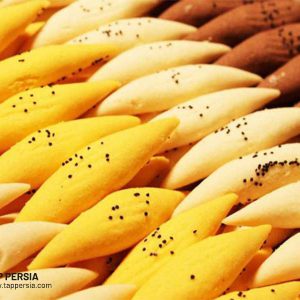 This sweet contains an almond that comes from the gardens of Qazvin, and since oranges, roses, and cardamom are added with sugar, it creates an exciting combination you can try only when you visit Qazvin. They make the almond bread with flour, sugar, almond powder, pistachio powder, and cardamom powder, making a tasty sweet. And that's why the delicious almond sweets have such a pleasant smell.
Thin Bread or Pistachio Bread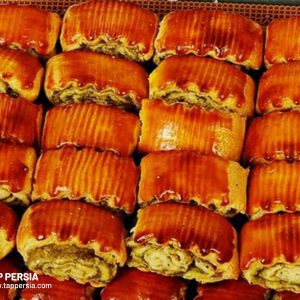 There are many types of thin bread, such as sesame thin bread and walnut thin bread, but the one that is most commonly used is pistachio thin bread. Pistachio rolls, sliced sweets, are made of quality ingredients and are eaten by cutting fine slices on a plate.
It is also known as Besak by the local people of Qazvin. These ingredients go into this yummy sweet: white flour, fine sugar powder, eggs, solid oil, vanilla, yogurt, melted butter, salt, baking powder, sourdough powder, walnut powder, pistachio powder, saffron, and sesame.
Syrup Cake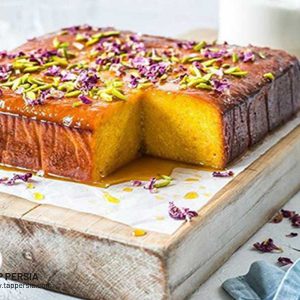 All of your assumptions about sponge cakes will be challenged after you have had a syrup cake. These cakes are delicious just like most others, but also have the slight difference that syrup of saffron, cardamom, and rose will eventually be added to them to make it a little moist and fragrant. An aromatic and delicious cake is cut into a rhombus shape and topped with pistachios and nuts. Its ingredients are flour, sugar, yogurt, cardamom, oil, and eggs.
Tea Bread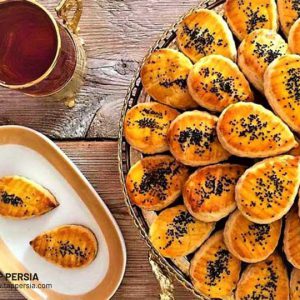 Tea bread is another famous sweet in Qazvin. As its name suggests, this one is baked exclusively for tea. It is a kind of dry, sweet, colorful, and fragrant bread that is baked most often by the women of Qazvin on holidays, and it is traditionally eaten at tea parties and during weddings. It is sweet and very tasty and is made from flour, sugar, eggs, yogurt, butter, and sesame. tea bread decorated with pistachios and sesame.
The Final Delicious Advice
With all the variety of sweets in Qazvin, how would you feel if you could only have one for afternoon tea and skip the rest? Wouldn't it be logical if we multiplied the number of cups of tea we're going to drink each day and allowed ourselves to eat as many of the sweets as we could get our hands on? Now, as a precaution, find the tea bread among the other sweets next to the tea. You can also order these sweets in online bakeries like Parastoo, Reza and Alef Confectionery.
---
Recommended Tours