Si o Se Pol; Isfahan's Remarkable Site not to Miss
You may have heard the proverb "Isfahan Nesf-e Jahan" meaning "Isfahan is half of the world" which refers to the huge number of Isfahan's natural and historic sites so that it encompasses half of the world's beauties. Isfahan was enlarged under the command of Shah Abbas I in order to make this city the capital of trade, art, and sports in Iran. It may sound an exaggeration but the magnificent mansions and palaces, marvelous bridges, unique mosques, and amazing gardens are what awaits you in Isfahan. One of the most well-known features of Isfahan is Si-o-Se Pol which is the widest bridge over the Zayandehrud, connects also north and south of Isfahan.  
Isfahan Bridges 
The beauties of the Zayande Rud have engendered building magnificent bridges in Isfahan. Khaju Bridge, Joui Brdige, Marnan Bridge, and Si-o-Seh Pol are some to mention. Si o Se Pol's size, central location, and unique architecture have made it the most renowned and longest one among the 11 bridges in Isfahan. That is a reason why you should not miss visiting Sio Seh Pol. 
Which Name?: Si-o-Se Pol? Si-o-Se Pol Bridge? Si-o-Se Bridge? 33 Bridge? 
You might wonder what is the deal with the bridge's name? There are just too many of them! First things first, "Si-o-Se Pol Bridge" is an awfully common mistake. To know why we need a little bit of Persian language knowledge. Si-o-Se in Persian means thirty-three -due to the 33 arches of this bridge- and Pol means bridge. See where we are heading? "Si-o-Se Pol Bridge" is somehow "33 bridge bridge"! So let's not have it used to look more of a professional traveler. Haven't you found its specific name yet? Let me explain. The most popular name for it is "Si-o-Se Pol" and "Sio Se Bridge" or "Thirty Three Bridge" are odd to use. If you ever hear about Shah Abbas Bridge, Jolfa Bridge, Allah Verdi Khan Bridge, and Chehel Cheshmeh Bridge, do not worry, they are all the same. 
Where is AllahVerdi Khan Bridge? 
Wondering what is the deal with Allah Verdi Khan Bridge? After a bit of Persian language, it is time to get acquainted with Persian History. Let's get back to the Safavid Era and the time of King Abbas I's reign. Allahverdi Khan was born a Christian Georgian and was imprisoned under the command of Shah (meaning King in Persian) Tahmasb. He was deported to Iran and entered Safavi Court as a military slave and converted to Islam. After a while due to his significant contributions to the Safavid military, Shah Abbas I appointed him the governor of Fars and so many other positions as well. He was the first military slave who attained equal status with the royal family.
He has built a host of public buildings and charitable foundations. Sio Seh Pol is one of them that was also supported financially by him. Si-o Seh Bridge turned to be one of the greatest features of Iran's architectural sites. As a result "Allah Verdi Khan Bridge" comes after his name.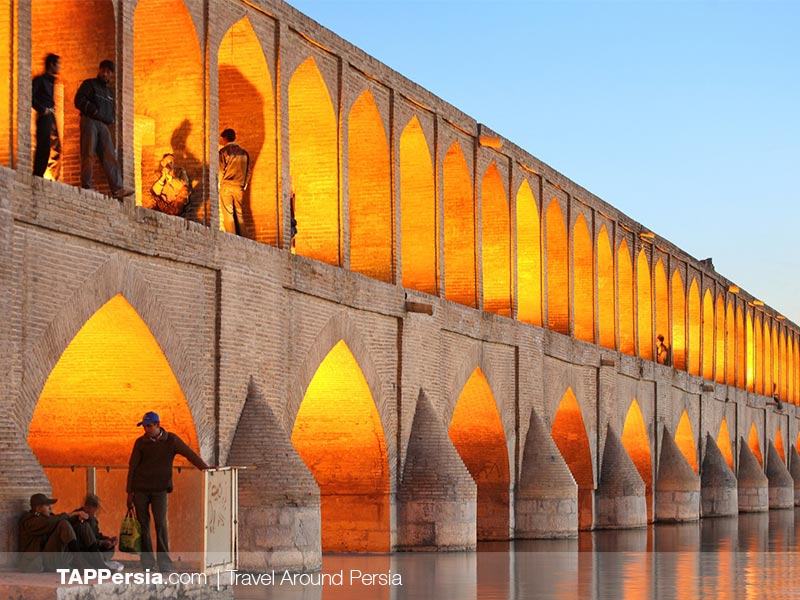 Si-o-Se Pol; A Bridge to Pause, not to Pass
The remarkable point about Si-o-Seh Bridge is that it is the largest Iranian construction on water. 33 bridge is not a typical bridge for people just to pass and reach their destination. It is a destination itself and is considered as one of the greatest social and recreational centers in Isfahan too. You can roam around the pedestrian and enjoy the delightful scenery of the river and bridge. As a result, it is a great place to practice living in the moment. 
This amazing two-storey bridge is the Isfahan's nightlife hub where people go there, read poems, sing songs and enjoy the night sky over the amazing Zaiandeh River 
Right in the southern part of Chahar Bagh Avenue, they built the bridge 1602 with a length of 298 meters and a width of 14 meters long. It has 33 spans since 33 was a sacred number for the public. There is also this belief that the number 33 goes back to the Anahita -33 is a number representing her-, the goddess of water.
The amazing lightning on the bridge has made it a shining spot attracting so many visitors at night. A sidewalk on the top and another one near the water level with a ceiling are two places where people can stay still for a while and enjoy the beauties of the surrounding area.
The Architecture of Si-o-Se Pol 
The architect of this bridge, Hosein Bana Isfahani, has picked the widest part of the bridge where water is at the lowest level. The bridge is built of stone, Saruj, plaster, and brick so that it will not be broken in circumstances of high pressures and humidity. See, walk on the beautiful bridge with peace of mind. There is nothing to worry about! 
Symmetry and repetition are the two factors of Persian architecture and have been observed meticulously in the structure of 33 bridges.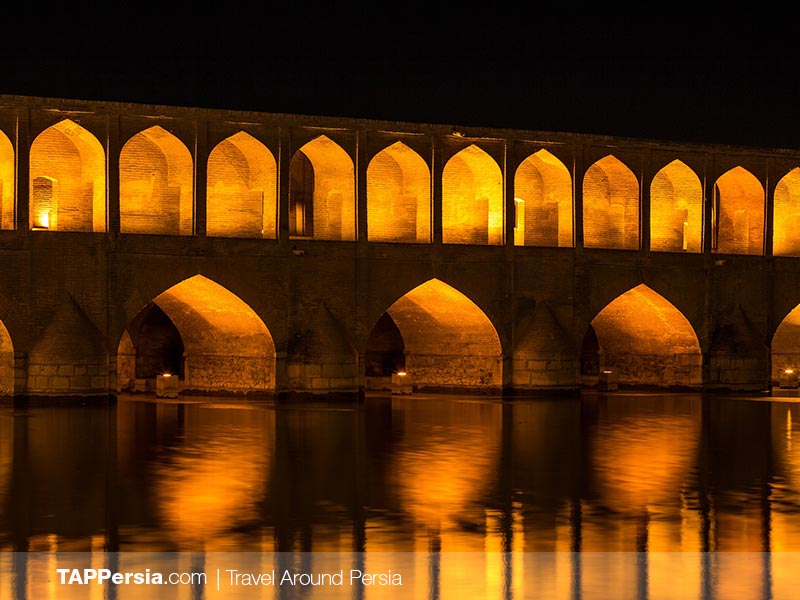 The Symbolism of Si-o-Se Pol 
If you notice the arches, you'd realize that the first three are separated. You might have wondered why! Well, it is a great representative of Persian culture; people believed the first three days after death are special. As a result, this structure is a symbol for Isfahani People of the importance of these days after one is dead.  
When is the Best Time to Visit Si-o-Se Pol? 
Note that due to climate changes, not all days of the year have Zayanderud water. So you cannot expect the magnificent reflection of the bridge on the water and the sound of flowing water wherever you go. As a result, spring and fall are more suitable times to visit there. The best time of the day to visit Sio Seh Pol is evenings and nights where you can get in the middle of local people's lives and see how they spend their leisure time singing on the bridge, reading poems, and chatting.  
Where is Si-o-Se Pol? 
Sio-Seh Pol connects two main streets of Isfahan: Chahar Bagh-e Abbasi and Chahar Bagh-e Bala. The good point is that it is located right in the heart of the city where you can access other attractions easily. Naghsh-e Jahan Square and Chehel Sotun Palace are located with a 20- minute walking distance to this bridge. Vank Cathedral and Isfahan Music Museum are just on the southeast of the bridge. So, with a few minutes of walking along the river, you can reach Khaju Bridge as well. 
What to Do at Si-o-Se Pol?
Try this: Exchange culture with the locals, enjoy the songs and poems people are reading, take your camera with you to capture the beauties especially on the evenings, have a cup of Persian tea at the teahouse, stay still and observe the flowing water, birds flying, and people chatting.   
On the lower deck, there is a teahouse where you can enjoy having a cup of Persian tea and enjoy the beauties of the scenery. Note that you cannot drive on the bridge, but riding a bicycle is possible in not-so-crowded times(Isfahan Tour).
Ceremonies Held at Sio Seh Bridge
At this bridge during the Shah Abbas Reign, people celebrated Nowruz (Persian New Year) for three to seven. People throw out too many flowers on the way Shah was passing and after him. Water Festival in Sio- Se Pol is another ceremony held during the Safavid Dynasty. In this festival, people splash and pour water and rosewater at one another. Every year in January, Armenians also used to celebrate the Epiphany festival on the bridge.  
In short, visiting Si-o-Se Pol must be an inevitable part of your journey to Iran. There is not just the architectural masterpiece you will see, there are many untold stories and unread poems behind this bridge. You just need to pause for afew minutes and capture the transient flow of life on this bridge. Have a deep breath and PAUSE! You will be amazed by all the beauties. 
---
Recommended Tours