Museums are places where you can learn a lot about a country's history, culture, and art. Moreover, by visiting the ancient items, you travel back to the past and imagine old people like characters in a story.  A true story which can teach you lessons and widen your horizons about life. Getting lots of information just in a short time would be certainly worthy of visiting. Most museums are located in alluring areas, so you can enjoy the attractions and visit these educational places without wasting time. For having a more convenient visit to these museums, just take a look at our recommended tours at the end of this page or search any tours on this page. Here we provided top museums in Iran you must see:
1. Isfahan Music Museum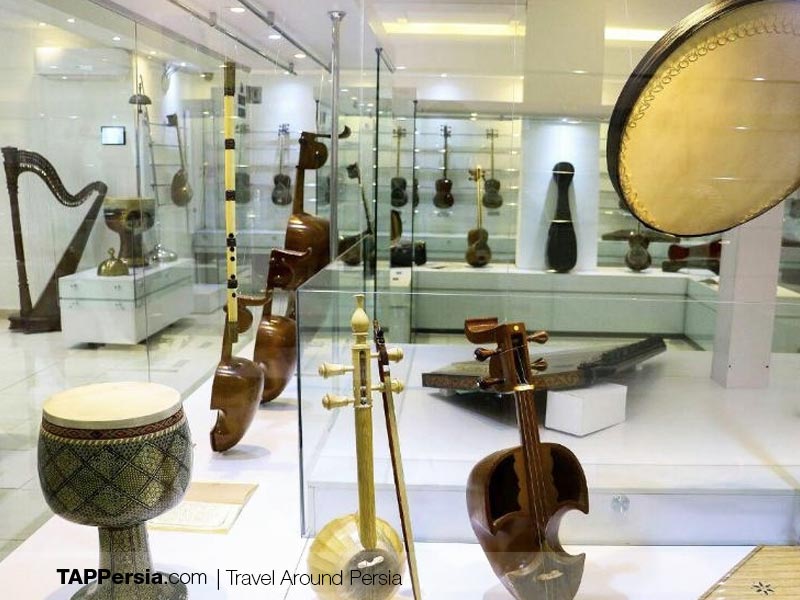 Isfahan City is one of the origins of art and music in Iran. Therefore, two local musicians, Mehrdad Jeyhooni and Shahriar Shokrani, started to collect more than 300 musical instruments with their history. They established this innovative museum in 2015 in the Armenian/Christian area of Isfahan. 
Two outstanding musical instruments are Kamancheh and Tar, which helped the invention of violin and guitar. You can also observe some instruments that you can't find anywhere in the world. They were dedicated to the museum by great Iranian musicians. Some items are surprisingly centuries years old.
Helpful curators present Isfahan Music Museum. Further, they are open and patient to all of your questions. The Museum was awarded for having the best qualities by Iran International Council of Museums (ICOM), also known as the country's best private museum by the Iranian Cultural Heritage organization. Enjoy live performances and you may even have the chance to touch and play some of the instruments they introduce.
Website: http://www.isfahanmusicmuseum.com/home/en
Opening hours: Every day from 9 a.m. to 9 p.m. except IMM closing days.
In case you're interested to explore Iran on your own, you have the option to get TAP Persia's Car Rental Service in Isfahan.
2. The National Jewelry Treasury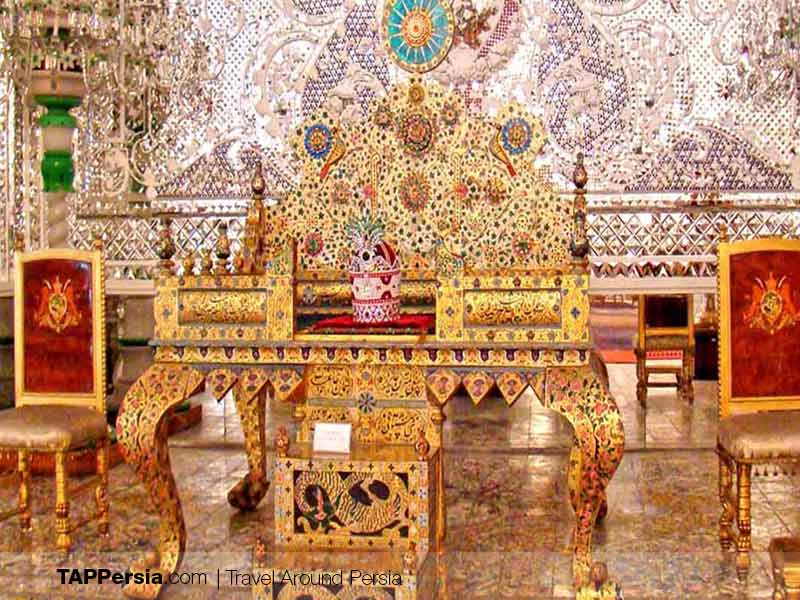 By visiting this museum, you'll get a lot of information about Iran's history. In other words, visitors will know about the country's victories, failures, pride, and shocking incidents. The general opulent objects of the museum are gem-studded crowns, swords, and thrones like Takht-e Naderi and Takht-e Tavoos (Peacock Throne, a gem-studded daybed). Walk through the bright gems and enjoy Iranian art and culture.
The process of collecting jewels began by Safavid monarchs. Anyway, some of them were scattered due to different reasons like war or rubbery. The most significant item was a diamond called Kuh-e-Nur (mountain of light). It was never brought back to Iran, however, Being the largest diamond cut in the world, Kuh-e Nur was taken to Crown Jewels of UK.
This diamond had another pair called Darya-ye-Nur (Sea of Light). It's the 182-carat uncut pink diamond, nowadays displayed in Iran's national jewelry treasury. Both of them belonged to Nader Shah Afshar.
Later, the majority part of the treasury was transferred to Iran in 1955, nowadays kept in this museum. The National Jewelry Treasury is in the capital city of Iran, Tehran, in the vault of Central Bank of Iran. It contains an exquisite collection of precious royal jewelry related to Safavid, Qajar, and Pahlavi eras.
For entering this museum is to leave all your belongings at reception and don't touch anything else the alarms will trouble.
Website: https://www.cbi.ir/page/1475.aspx
Open from Saturday to Tuesday, 14.00 – 16.30.
Close on Wednesdays, weekends and Public and Bank Holidays.
3. Golestan Palace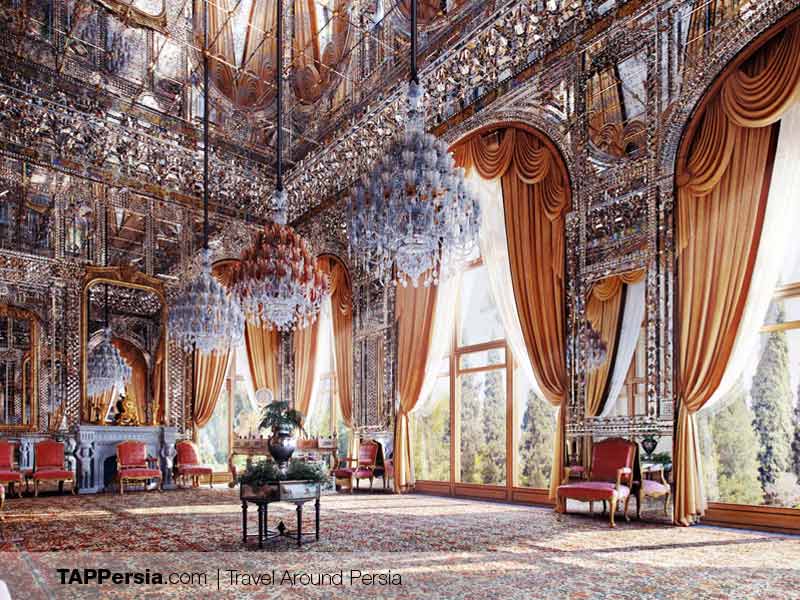 If you'd like to walk in a relaxing, pleasant area in Tehran, also learn a lot about Iran's history, Golestan Palace is the best option. The palace is a masterpiece of the architecture dates back to the Qajar era in the 19th century. It presents a combination of European and Iranian styles, which started to apply on buildings in the 19th century. In 2013, the place was registered as a UNESCO World Heritage Site.
When the Qajar family got power in 1779, they chose Tehran as their capital city. The edifice used to be their family home, so it can be one of the oldest constructions in Tehran. The garden's yard has delightful planting and pools in the middle and the complex includes 17 sections. For visiting each royal building, you need a separate ticket. All in all, it's worthy to see the whole complex.
Some of the must-see elements are Takht-e Marmar (Marble Throne), Mirrored Hall, the cozy Karim Khan Nook, the magnificent Shams-Al Emareh and painted tile walls. The museum is part of Salam hall, which displays the precious possessions of Qajar kings, old paintings, clothes, and handicrafts.
Opening hours: Every day 9:00 – 18:00
In case you're interested to explore Iran on your own, you have the option to get TAP Persia's Car Rental Service in Tehran.
4. Sa'dabad Complex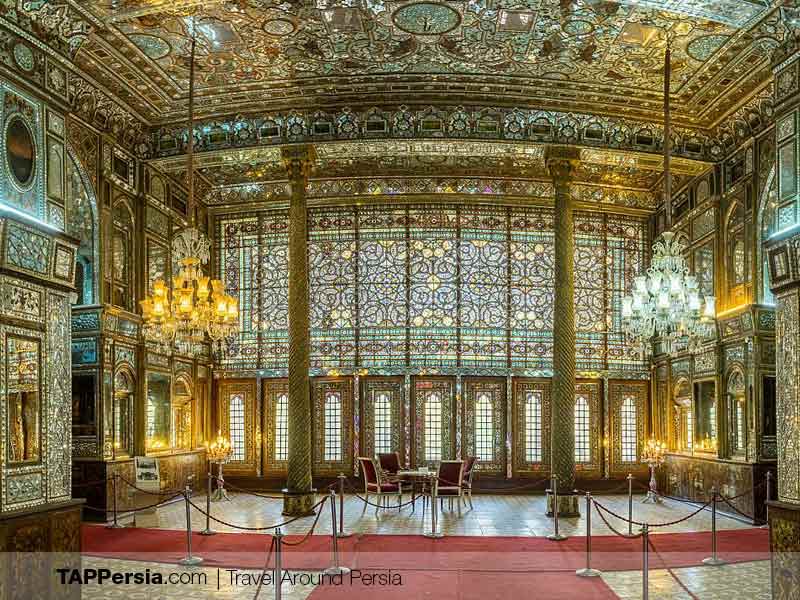 Sa'adabad Museum lies in a vast lush site in the foothills of Mount Tochal, north of Tehran. In other words, the green Valley of Darband in Tajrish district provides a lovely atmosphere and fresh climate. You can also enjoy strolling through natural forests, springs, Qantas, gardens, and greenhouses.
The imposing complex of Sa'adabad was built in Qajar time, it used to be a resort for Qajar kings especially in summers. During Pahlavi time, they added some other buildings and all 18 palaces were the home garden of the royal family. Nowadays, some of them have turned into museums, including:
Mellat Palace Museum (White Palace)
Master MirEmad Calligraphy Museum
Royal Albums and Historical Documents` Museum
Website: http://en.sadmu.ir/
Opening hours: Every day 9:00 – 18:00
Last entry: 16
5. Glassware and Ceramic Museum of Iran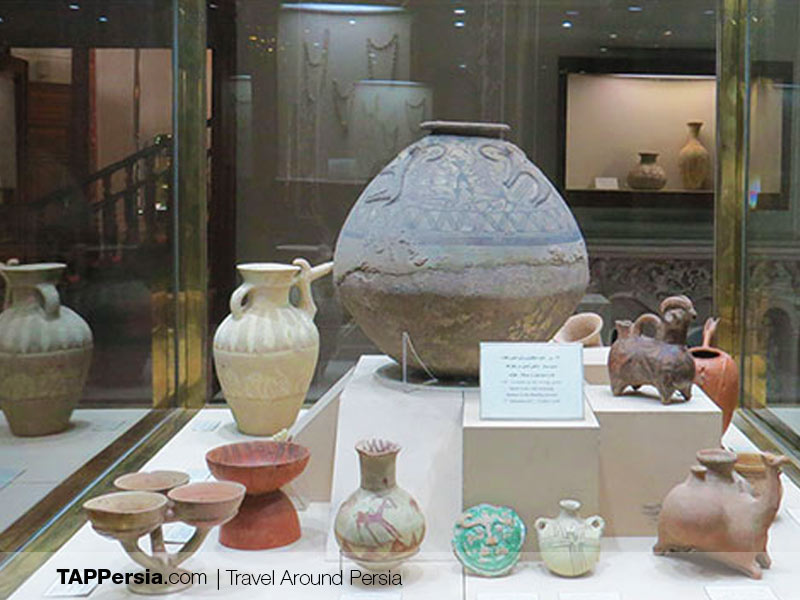 The museum building is in Tehran and used to be a private residence for Qavam-Ol-Saltaneh (Mr. Ahmad Qavam) in 1922. Later, it turned into the Egyptian embassy. In 1980, the building became a museum and was also selected as a national heritage.
The octagonal building is in the middle of a 7000 square meter garden. It consists of two storeys designed with a mixture of Iranian and European styles. The authentic plaster/woodwork and shining crystal chandeliers will amaze you about old houses.
By visiting this museum, not only do you enjoy the architecture, but you also observe the ancient glass and clay works, and a unique collection in Iran. You'll be standing in awe of the beauty of clay pots, date back to the 4th millennium BCE. There are also European glass works of 18th and 19th centuries in 6 halls and two other halls have themes of different historical times.
Website: http://www.glasswaremuseum.ir/
Opening Hours: Every day 8:00 – 19:00
In case you're looking for a hotel in Iran, you can follow our hotels' page or contact us.
6. Reza Abbasi Museum
Th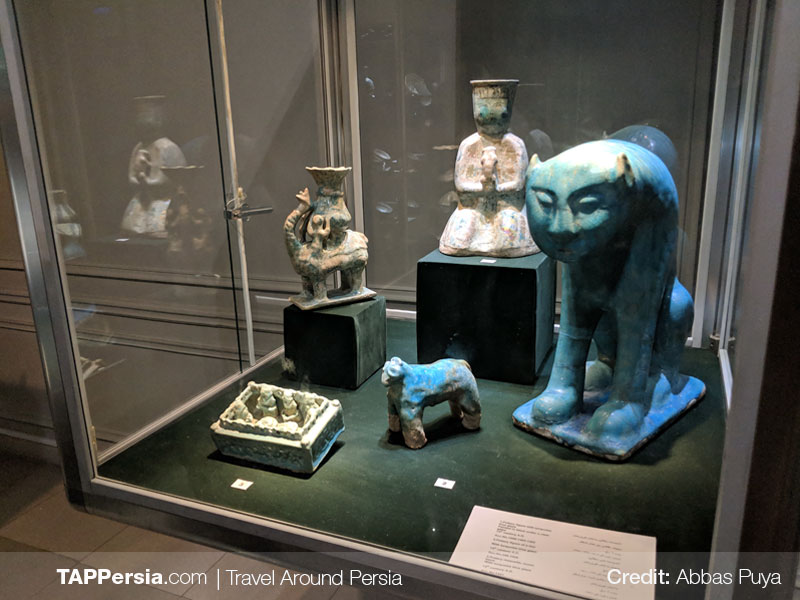 ey opened this museum in 1977 in Tehran. It's named to honor the skilled Iranian artist of the Safavid time, Reza Abbasi. The museum has become under the supervision of the Iranian Cultural Heritage Organization since 2000.
Reza Abbasi Museum includes three galleries depicts pre-Islamic and Islamic art. The objects range from pottery, metalwork, jewelry, paintings on canvas, paper and manuscripts of prehistoric eras to vessels, metalwork, fabric paintings and calligraphy of Islamic time. Some painting and miniatures by Reza Abbasi are also part of the exhibition.
What makes the museum special and one of the top museums in Iran is that all items are arranged chronologically, so visitors can realize the improvement and evolution of art. In general, the objects date back to the 2nd millennium BC to the early 20th century (that is to say the end of the Qajar period in Iran)
Website: http://rezaabbasimuseum.ir/
Opening Hours: Every day 9:00-18:00 except Mondays
7. The National Museum of Iran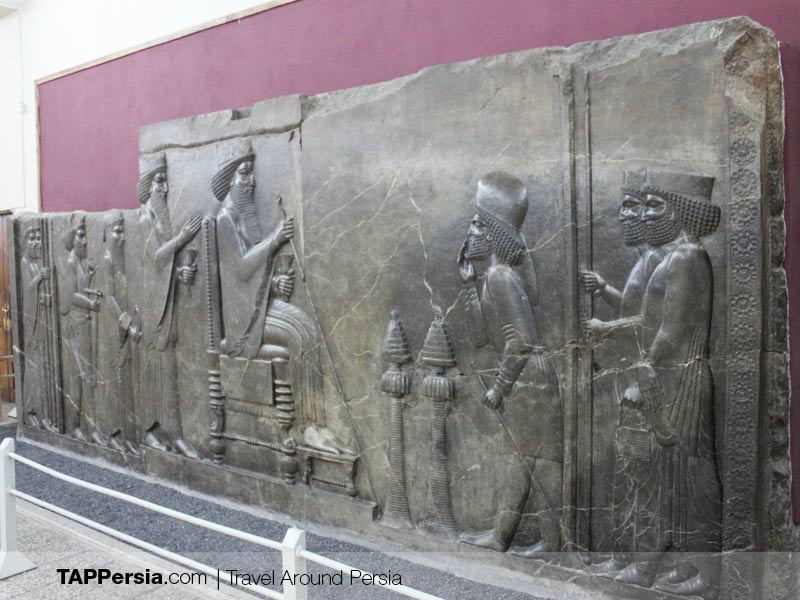 National Museum is on Si-e-Tir St, an old street in Tehran. In fact, it's an institution consists of two complexes: the Museum of Ancient Iran (opened in 1937) and the Museum of the Islamic Era( opened in 1972). There are also research departments are arranged chronologically.
The institution indicates historical objects of the ancient and medieval era in Iran, including vessels, metal works, fabric, some rare books, and coins. The most ancient artifacts in the museum belong to the Lower Paleolithic period. Upper Paleolithic tools date back to 30,000 years ago.
By archaeological treasures, you can see the progress of Persia from prehistoric time to the Islamic era. Stone tools of Neanderthals are another must-see objects in the museum.
Website address: http://nmi.ichto.ir/
Opening Hours: Every day 9:00-19:00
8. Yazd Water Museum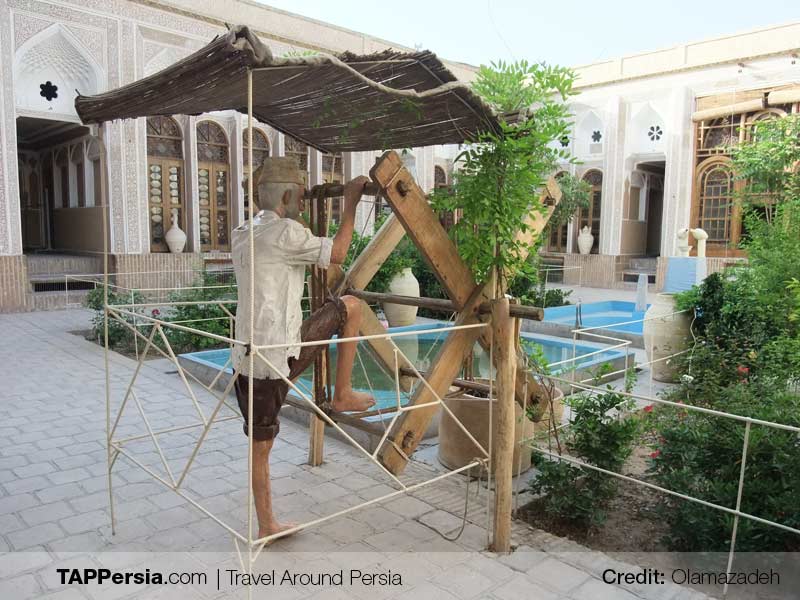 As Yazd is a dry city in the desert, locals created different ways to obtain underground water. The Water Museum in Yazd shows how this process worked out. One outstanding strategy to provide water is Qanat.  
Qanat is an ancient system which manages underground water. They dig horizontal tunnels to collect water from an underground water source in a mother well. There are still active Qanats, built over a thousand years ago, distributing water throughout the city of Yazd.
The amazing collection of photos, devices, and tools in this museum will reveal the secret of how Yazd has become a flourishing city and survived by underground water.
Opening Hours: Every day 8:00-19:00
In case you're interested to explore Iran on your own, you have the option to get TAP Persia's Car Rental Service in Yazd.
9. Tehran Museum of Contemporary Art (TMOCA)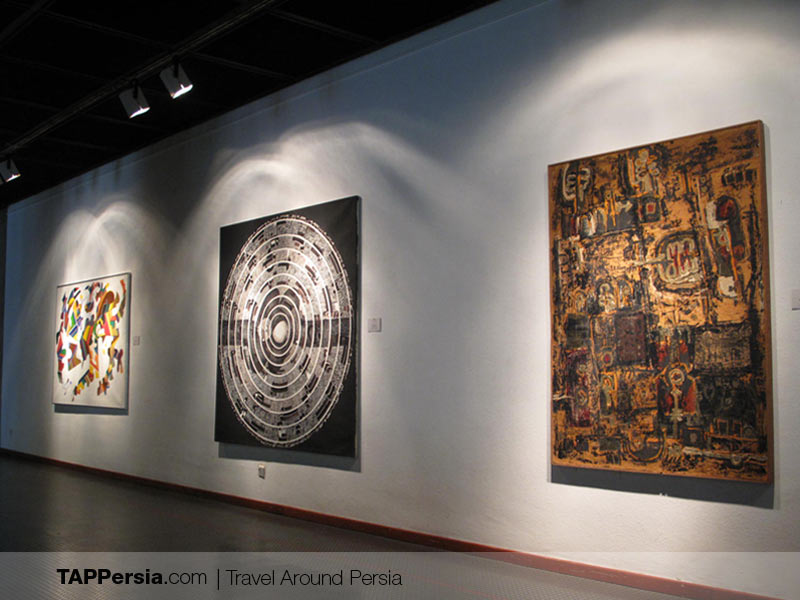 The largest art museums in Tehran lies among a lush park called Laleh Park. It contains more than 3,000 priceless items of European and American paintings from the 19th and 20th century. An eye-opening collection of Iranian modern and contemporary art also exists, which conclude sculptures too.
The museum was established by the empress, Farah Pahlavi. The idea arose when she was talking to an artist. Then she started to meet many Iranian and international artists to complete the collection.
TMOCA has the most priceless works of great Western artists such as Picasso, Pollack, Matisse, Kandinsky, Warhol, Rothko, Van Gogh, Bacon, Miró, and Munch. Consequently, it's one of the most significant collections outside Europe and the US. It's estimated that the museum's value is approximately £2.5 billion.
The works of Iranian artists such as  Sohrab Sepehri, Farideh Lashai, and Parviz Tanavoli exist in the museum as well.
Website: http://tmoca.com/
Opening Hours: Every day 8:00 – 17:00 except Fridays
10. Moghadam Museum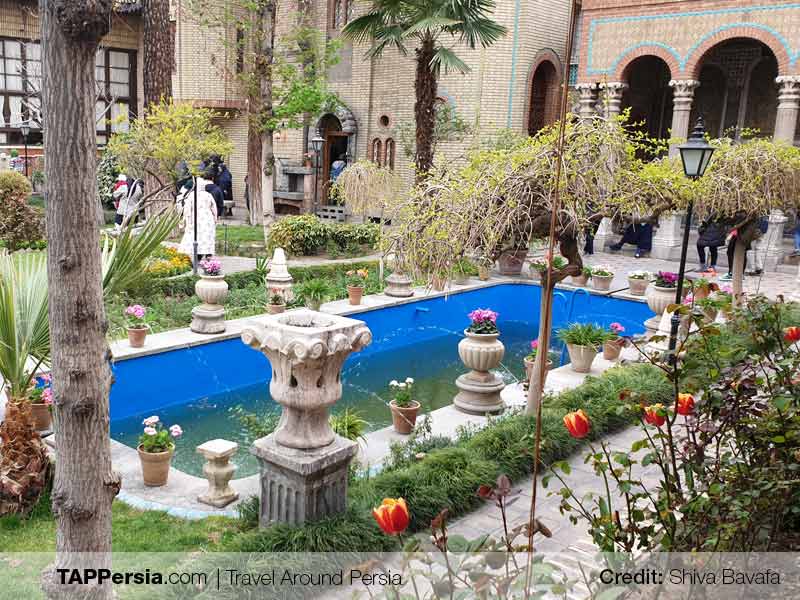 This museum is in a house with traditional architecture in the center of Tehran. It's among a small garden with multiple turquoise ponds and many trees in the yard.
They built this house about 200 years ago. It belonged to Ehtesab-Ol-Molk, a high-ranking official, in the Qajar dynasty in the 19th century. One of Ehtesab's sons, Mohsen Moghadam, studied Archaeology in Europe, then he came back to Iran with his French wife. The couple started to collect precious items like gems, fabrics, paintings, and prehistoric objects and arranged them in his father's house.
Mohsen is the first Iranian who got Legion of Honor from the French President because of his previous activities. After the couple passed away, Tehran University has been managing museum until now.
By walking through this amazing garden, you find out more about Persian architecture and refresh your mind, as well as getting historical information.
Website: http://museums.ut.ac.ir/mm/
Opening Hours: Every day 9:00 – 17:00 except Mondays
We mentioned Iran's top museums, we have known by far. If you have any experience visiting a museum in Iran, please let us know in the comments. Feel free to ask any questions about traveling to Iran via TAP Persia's Contact Page.
---
Recommended Tours