Tehran is the capital of Iran and the 25th most populous city in the world. Metaphorically speaking, we can say it's the New York of Iran. It's a big city full of opportunities and any kind of attraction you might think of, from traditional to most luxurious ones to the highest spot in Iran. With its magnificent palaces, spectacular museums, beautiful and lush parks, and outstanding historical monuments, Tehran is one of the sights of Iran and Asia. Today we are going to learn about some of the top things to do in Tehran.
One of the Oldest Places of Interest in Tehran
1. Valiasr Street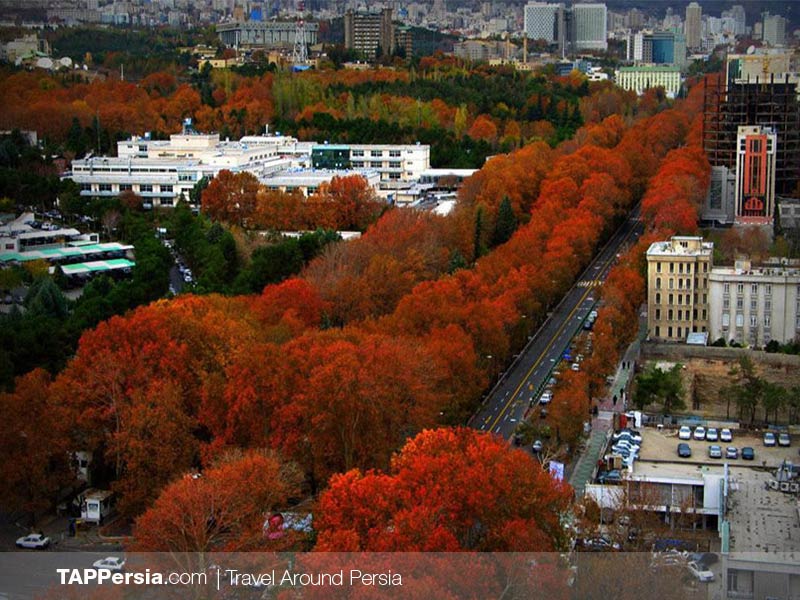 It is the most important street in Tehran, which of course is one of the most beautiful streets in the world. The length of this street is about 18 kilometers and in different periods of Tehran's history, it has always been seen in the list of the first sights of Tehran. For example, historical books say that the north of Valiasr Street was the promenade of the Qajar kings. One of the reasons for this popularity is the old sycamore trees that have created an amazing view from the beginning days of the street up to today.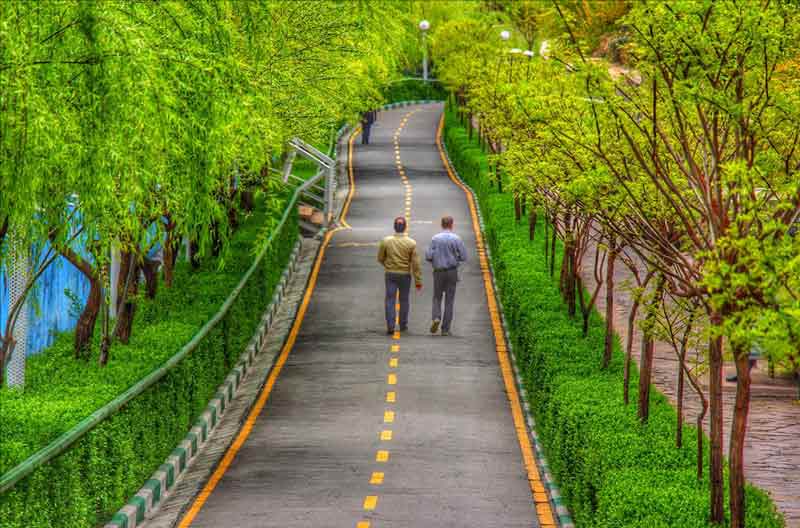 This street connects the northernmost and southernmost points of Tehran. Railway (Rah Ahan) Square is the starting point and Tajrish Square is the last destination of Valiasr Street. This street can be considered the center of Tehran's art cafes and uniquely beautiful parks such as Mellat Park, Saei Park, Ferdows Garden, Ab-o-Atash Park, and so on.
*How to get there: You can use the subway to get to this place. All you have to do is get off the train on Metro Line 4 on Shahr Theater Station (formerly Valiasr Crossroads Station). Also, if you intend to use the bus, you can select the Valiasr crossroads station located on line 4. Bus routes such as Railway-Tajrish, Railway-Parkway and Azadi-Tehranpars are among the lines that buses cross the Valiasr intersection.
Two Symbols of Old and New Tehran
2. Azadi Tower
From the past to the present, many people know Tehran by the Azadi tower or "Freedom Square". The tower, was built in 1971 and is located at the western entrance of the city. It is also close to the western bus terminal. Azadi Tower is the first building that attracts the attention of tourists on the western roads of Tehran. This famous building has various facilities such as a theater, gallery, library, museum and so on. It is on the list of the best places to see in Tehran at night, which also has an extraordinary view.
*How to get there: You can use Line 4 subway to access the Freedom Tower. After leaving the metro station, you can walk to the square. You can also get there from taxi terminals and BRT lines.
3. Milad Tower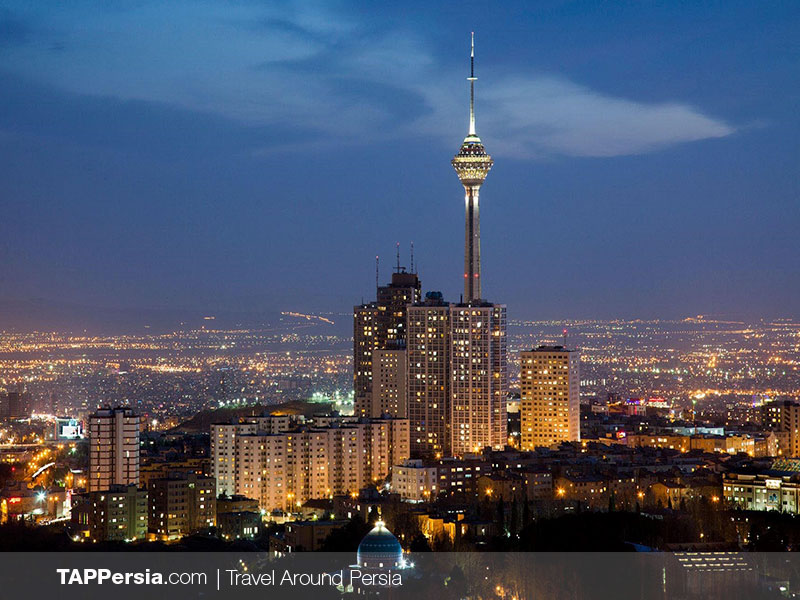 One of the sights of Tehran that is the place especially for the young is "Milad Tower". It was built in 2008 to meet the telecommunication and television needs of Tehran and at the same time it has the title of "the tallest tower in Iran" and "the sixth tallest telecommunication tower in the world". Slowly Today, all Iranians know Milad Tower, especially since it offers a variety of services in the fields of business, restaurant, conference center, tourism and entertainment services, and so on.
*Address: Sheikh Fazlullah Nouri Highway, the entrance of Shahid Hemmat Highway, exclusive bypass of Milad Tower.
*How to get there: Take your bus or taxi to Hemmat Highway and Milad Hospital. From there, you can take a taxi back to the entrance gate of Milad Tower. Inside the area, you have to walk 300 meters to get to the foot of the tower.
Tehran's Unbelievable Museums to Its Caravanserais and  Palaces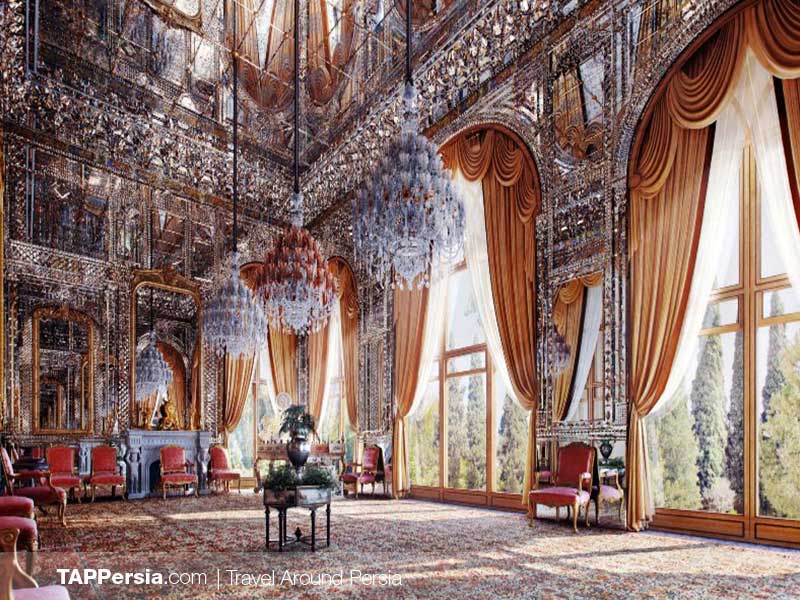 There are lots of great museums and old buildings in Tehran that let you flashback to the past of this country and learn a lot about it along with enjoying them. Among them, you must have heard about the National Museum of Iran, Golestan Palace, Tehran Museum of Contemporary Art, Treasury of National Jewels, Museum of Time, and Saadabad Historical Complex which all are the top attractions. You can get more information about these more-known top attractions on the links on our website, this way I can introduce other stunning attractions of Tehran in this article in a shorter length. There you go:
4. Museum of the Qasr Prison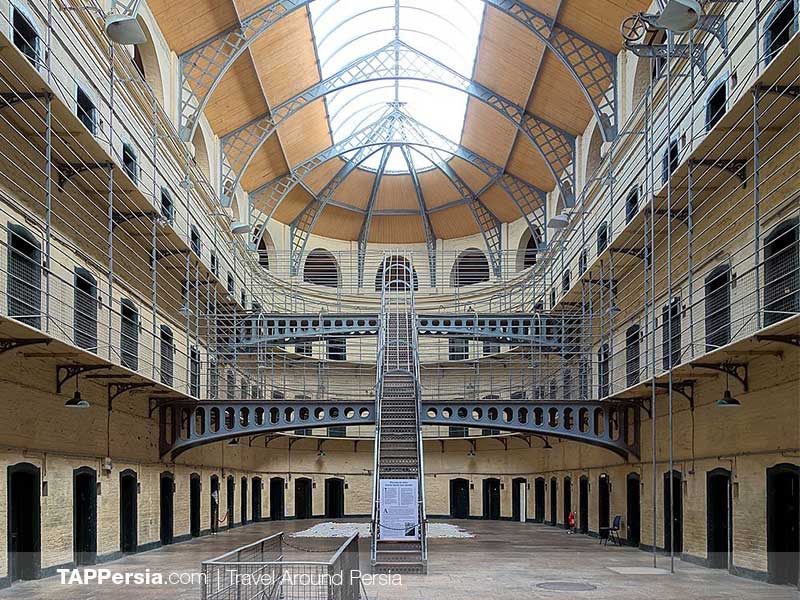 Until a few years ago, Qasr Prison was located in the police district. But for some time now, the prison has been replaced with the Museum of Qasr Garden. The prison watchtowers are still around the park as a decoration and reminder of that time. The moment you step into this museum garden, because of the indoor decorations you will know the people who had stepped on this piece of land and now, are not among us anymore. In addition to the interesting feeling you get from the museum, you should know that the interior design of the park is very beautiful and you can have hours of fun with your family.
*Address: Tehran, at the end of Shahid Motahari St., after the intersection of Dr. Shariati, Police Square
5. Khanat Caravanserai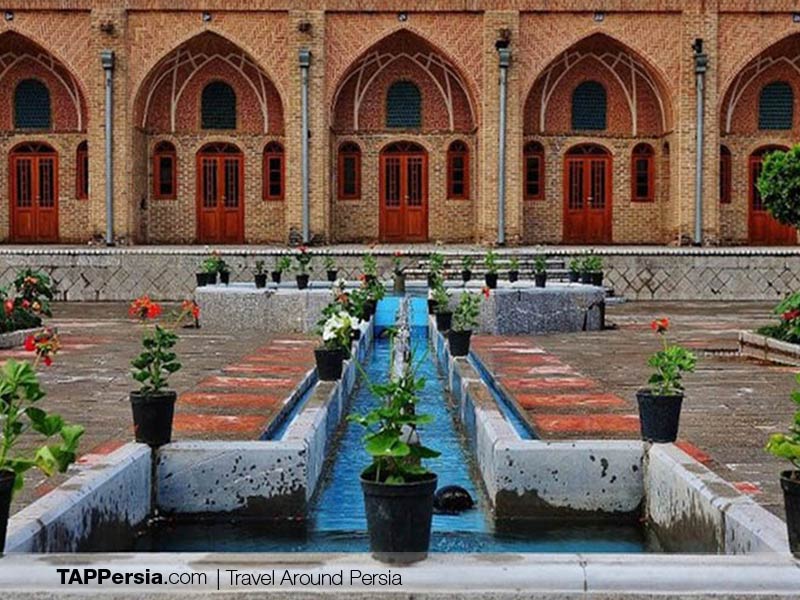 Khanat Caravanserai is one of the sights of Tehran, which dates back to the Qajar period. Unfortunately, in 1978, during the Islamic Revolution, this caravanserai went up in flames. For this reason, up to a few years ago, this old caravanserai was a warehouse only. But fortunately, Khanat Caravanserai has been renovated by the Tehran Municipality for some time now. The caravanserai is open to the public. You can also enjoy the traditional restaurant inside this caravanserai.
*Address: Molavi Intersection, Saheb Jame St., Amin Al-Saltanah Square, Khanat Caravanserai
6. Kazemi House Museum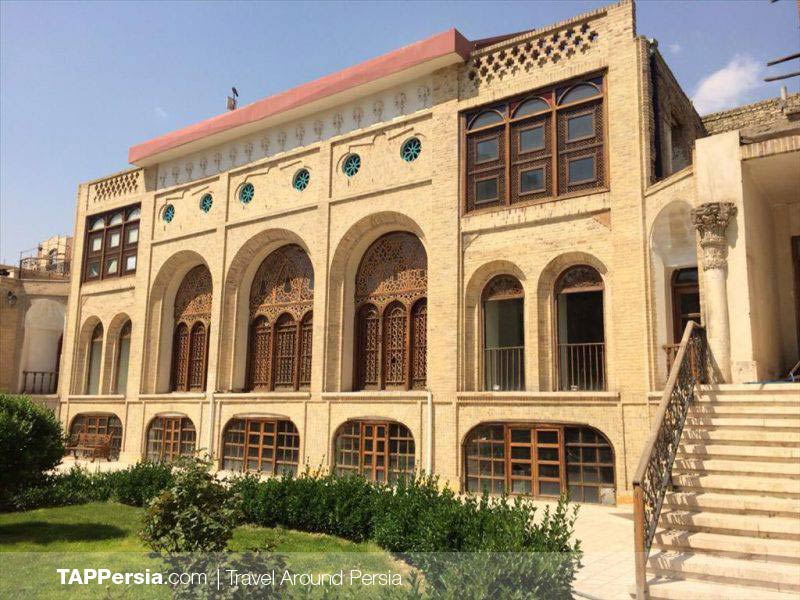 Another scenic area of ​​Tehran, which is located in the Bazaar area and dates back to the Qajar period, is called Kazemi House. Kazemi Mansion has been known as the Museum House of Old Tehran for some time. This mansion has been on Iran's National Heritage List and is considered one of the most beautiful sights of Tehran.
*Address: Tehran, 15 Khordad St., Abolghasem Shirazi Alley, Imamzadeh Yahya Alley
7. Glassware and Ceramic Museum of Iran – Abgineh Museum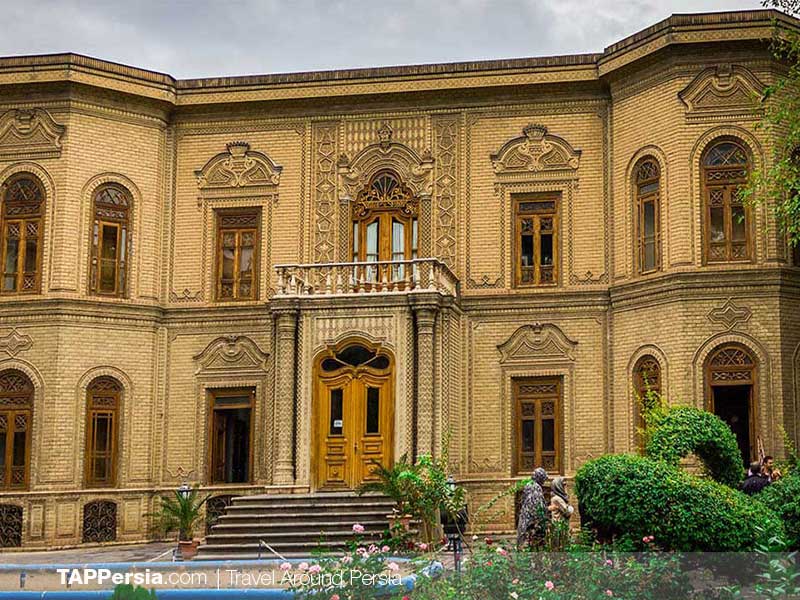 The Museum of Glass and Pottery is one of the sights of Tehran that fascinates everyone. The pleasure of your visit begins exactly from the moment you see the museum building. This building is the house of Ghavam Al-Saltanah and it dates back to the Qajar period. It is interesting to know that the top Austrian designer and architect, Hans Hollein, was a great help in the design and the interior decoration of the museum. In this museum, you can see beautiful pottery antiquities, some of which are thousands of years old.
*Address: Tehran, Jomhory St., ‌ Si Tir St., Museum of Glass and Pottery of Iran
8. Moghadam Museum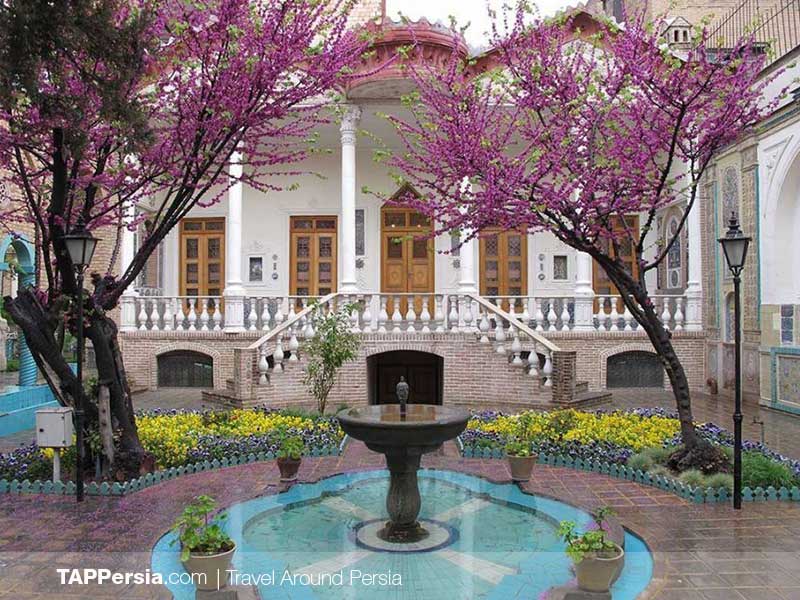 If you are looking for a place to spend quiet moments among the sights of Tehran, we suggest Moghaddam House. This historic house, which is one of the most expensive houses in the Middle East, is the heritage of the Moghaddam family. The last residents of this house were Mohsen Moghadam and his wife. And after that, the house was dedicated to the University of Tehran. This house is currently used as a museum and it is open to the public. Moghaddam Museum House is a combination of Iranian architecture and European elements. Visiting this house takes you to a fantasy world. Do not miss this opportunity.
*How to get there: The best way to reach this museum is through Hassanabad metro.
9. Niavaran Palace Complex, Memoirs of Qajar to Pahlavi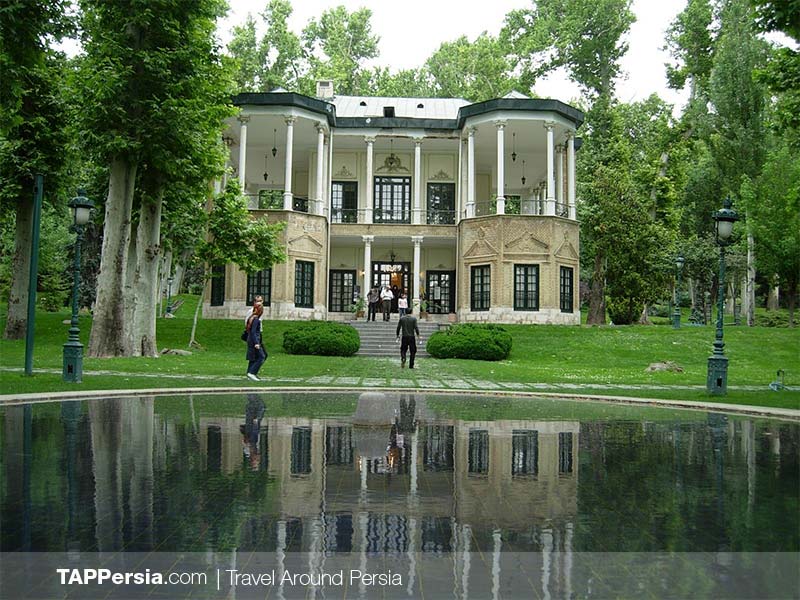 The Niavaran complex was originally a small palace built near the Gordeh village. This palace was built on a land that used to be a bamboo field. In Persian, they call bamboo, Ney. That is why it was named Niavaran Palace meaning risen from the Ney-s. Fath Ali Shah's summer garden was the first building they constructed in this complex.  And the last one during the Qajar era was Ahmad Shahi Palace. After the Pahlavi dynasty came to power, Mohammad Reza Shah ordered the construction of Niavaran Palace.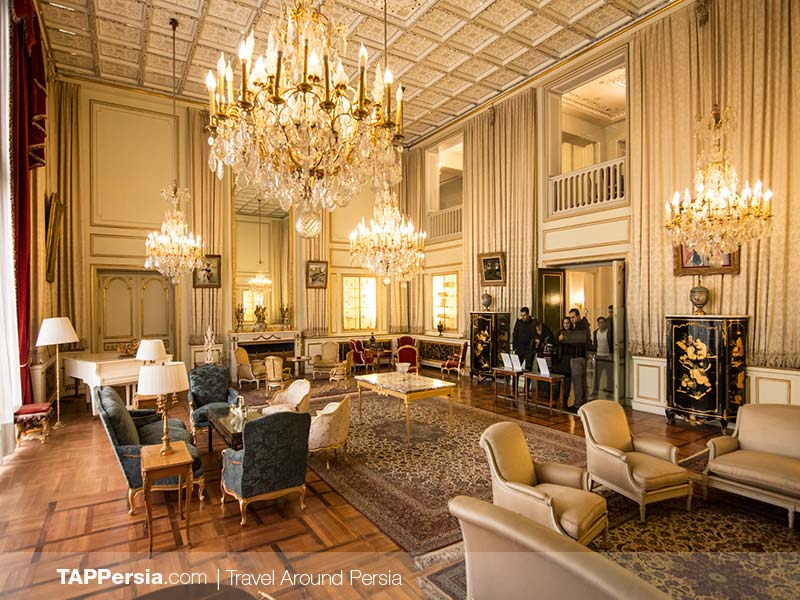 They completed the work in 1968. Niavaran Palace was a place for the king and his children to live, and they lived there until the last days. After the revolution and a few years later, the palace doors were open to the public. It is now a museum and one of the most beautiful places in Tehran.
How to get there: 1- Use the subway, you can go to Tajrish and from there you go to Niavaran by taxi or bus. 2- Use the BRT (train station- Tajrish line) to get to Tajrish and reach Niavaran by using other vehicles. 3- Taxi terminals have taxis to Tajrish. You can go to Tajrish through them and then to Niavaran by public transport.
10. Masoudiyeh Mansion, A Tour to Qajar History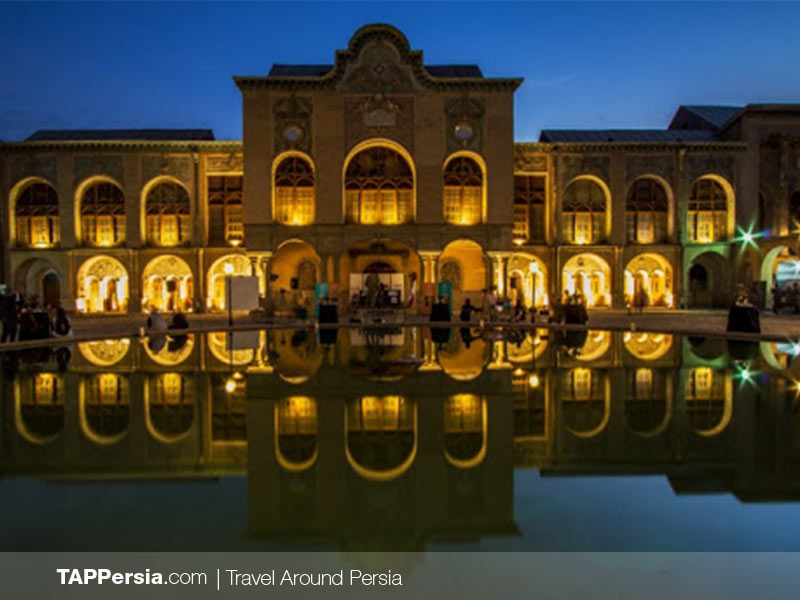 Walking in Baharestan Square in Tehran reveals the turmoil of the past days in the city. Many historical monuments such as the National Assembly building (Constitutional Assembly) and the Islamic Consultative Assembly are located around this square. It is not only a circular flowerbed area in the middle of the street but also the presence of the most important buildings in Tehran in its corner. All this has made it one of the most magnificent scenic areas of Tehran. One of its most important buildings is the Masoudiyah mansion, which when you enter, you feel you have traveled back to the Qajar period. Massoud Mirza, the ruler of Isfahan ordered to build it. The morning or evening atmosphere of Masoudiyeh Mansion and walking around is what you expect from a day trip in the capital city of Iran.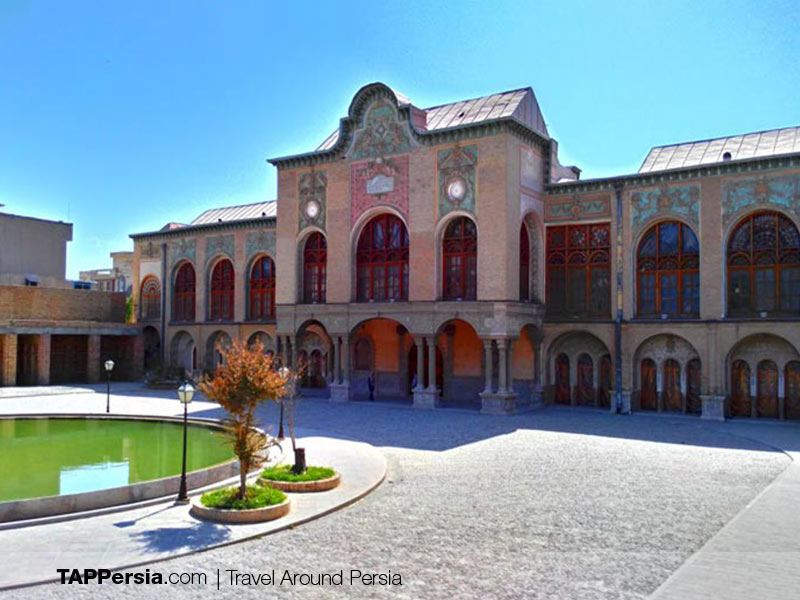 As you enter the mansion, on either side of a cobbled walkway, you will see tall trees with the tips of their leaves coming together. This mansion is full of plastering, tiling, calligraphy, paintings, and in general exquisite decorations.
*Address: Tehran, Jomhory St., Mellat St., Ekbatan St. intersection
*How to get there: 1. By subway, you should go to Mellat station by line 2, and afterward, continue your way on Mellat Street to Ekbatan Street. 2. Baharestan Square- Jomhuri Square bus line will take you to the destination also.
11. Nasser Khosrow Street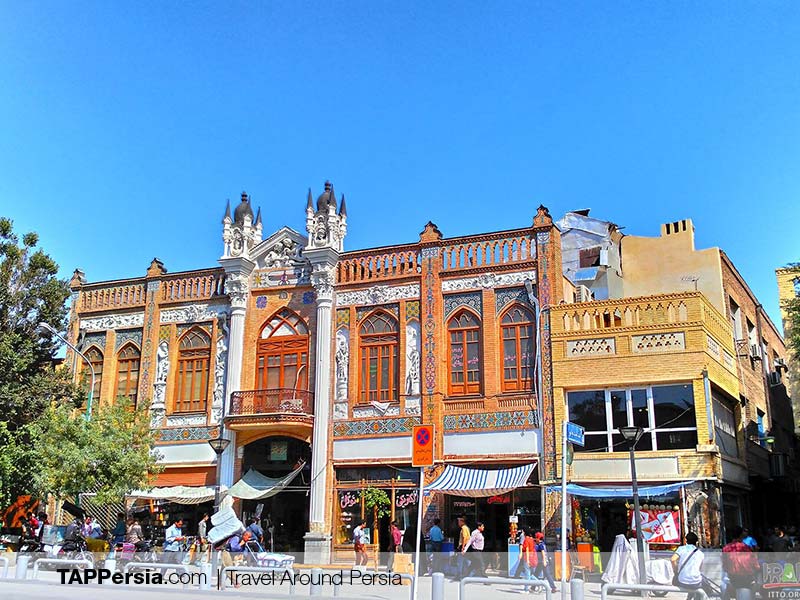 If you enjoy seeing the tourist attractions of Tehran that are very old, be sure to visit Nasser Khosrow Street. This street is not an ordinary one! In Nasser Khosrow Street there are buildings that have been built since ancient times. And now they are as a popular and valuable heritage that many tourists are interested in.
This historical street, which narrates the past well, starts from Topkhaneh Square and ends at 15 Khordad Street. This street dates back to the time of Nasser al-Din Shah Qajar and the year 1907.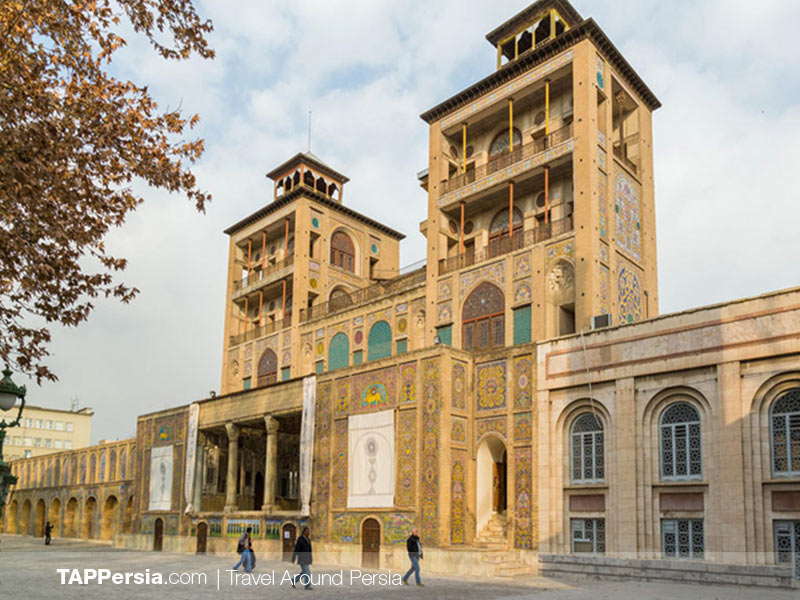 Many historical monuments such as Shams al-Amareh and Dar al-Fonun are located on this street. It is interesting to know that the first pharmacy and printing house in Tehran were also on this street. If you are looking for a place where there is a stock exchange for medical supplies, cosmetics, stationery, and cameras, Nasser Khosrow is exactly the street you are looking for. If you go there, visit Marvi Alley, which is one of the oldest Shopping centers and one of the sights of Tehran.
How to get there: The best way to reach Nasser Khosrow Street is to use the subway. You can get off at Imam Khomeini station and go to Naser Khosrow Street on the south side of Imam Khomeini Square. If you get off the train at Panzdeh Khordad station on subway line 1, you will get to your destination.
12. Negarestan Garden Museum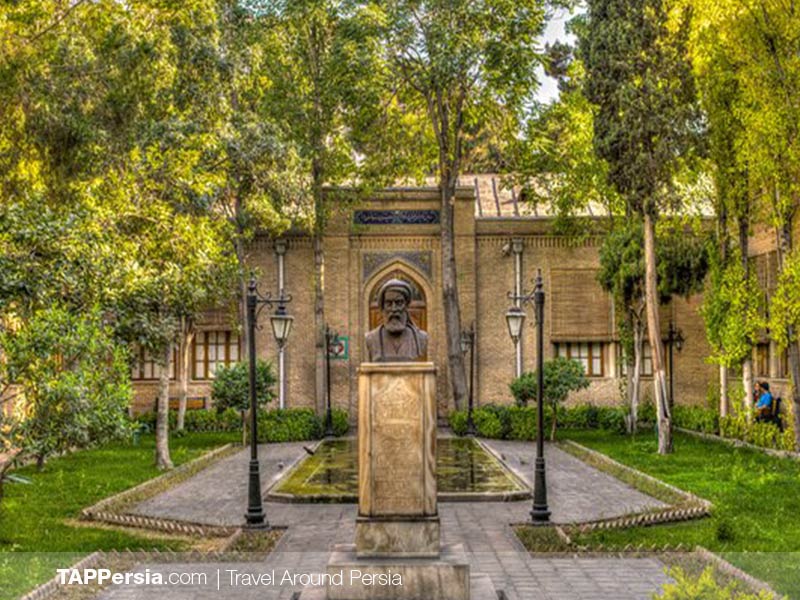 One of the best choices on Friday is to walk around the city and see buildings that are both historically significant and provide you the opportunity to have fun. The garden of Negarestan Museum is one of the best choices and one of the scenic areas of Tehran. It is in Baharestan Square. Fath Ali Shah Qajar ordered to build it. In this beautiful garden museum, there are several halls and painting galleries, including the gallery of Kamal al-Molk's masterpieces and his students'. After sightseeing and visiting the various halls of the Museum, you can sit in the cafes of this garden and chill, enjoying the outstanding views outside.
*Address: Tehran, Baharestan Square, Daneshsara St., Shariatmadar Rafi St.
*How to get there: It is very convenient to get there by subway. All you have to do is get off at Metro Line 2 at Baharestan Square Station and from there, take a short walk from Daneshsara Street to the Museum Garden.
13. Iran Ebrat Museum, A Story of the Bitter Part of the History of Iran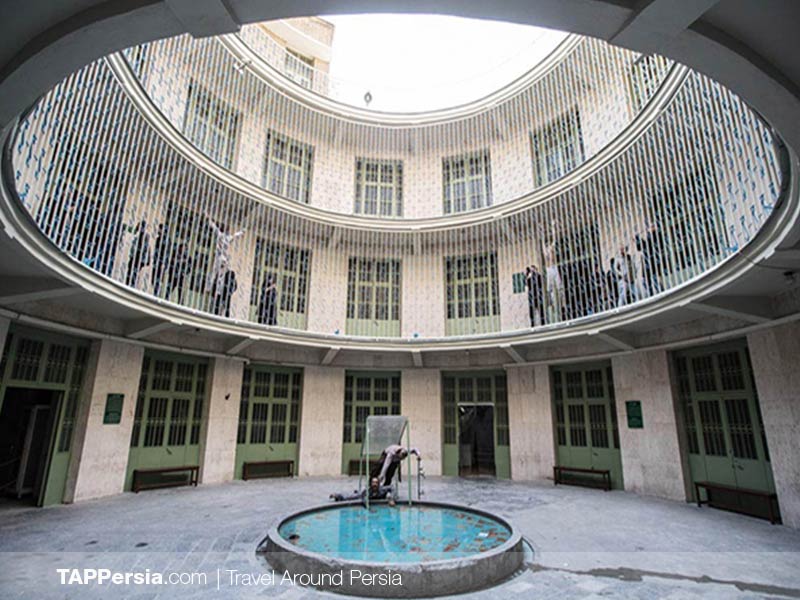 One of the strangest places in Tehran is this Museum which narrates a bitter part of history. This museum was first a women's prison during the Pahlavi era and then the most horrible torture chamber in the history of Iran. After its reconstruction, it became one of the most spectacular attractions in Tehran, which many people put on their to-visit list in Tehran. But have in mind, this museum is very different from any fun attraction because each piece of the Ebrat Museum hurts your heart and the simulated sculptures will tell you sad stories of the past.
*Address: No. 11, Shahid Yarjani St., Kooshak Masri St., Ferdowsi St., Imam Khomeini Sq., Tehran
*How to get there: The subway is the best choice because it is within the traffic plan. Imam Khomeini Metro Station is the closest station to which you can get on line 1, get off at this station and walk to the Ebrat Museum. Buses and taxis that stop in Imam Khomeini Square are also a good way to get there.
14. Darolfunun School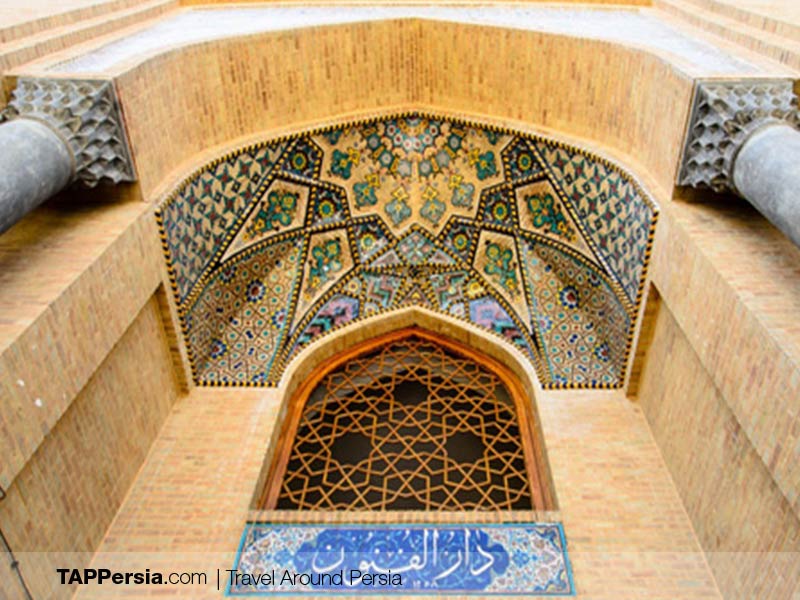 Amir Kabir or Mirza Mohammad Taghi Khan Farahani was the Prime Minister of Iran for about three years. In this short time, he left worthy services for our beloved country. One of these worthy services was the construction of the Dar al-Fonun school. Fortunately, from the Qajar period until today, this school is still well established in the Bazaar area of ​​Tehran. Dar al-Fonun, in addition to being one of the sights of Tehran, is also one of the national honors of Iran that must be visited.
*Address: Tehran, Naser Khosrow Street, further away from South Saadi street
15. Carpet Museum of Iran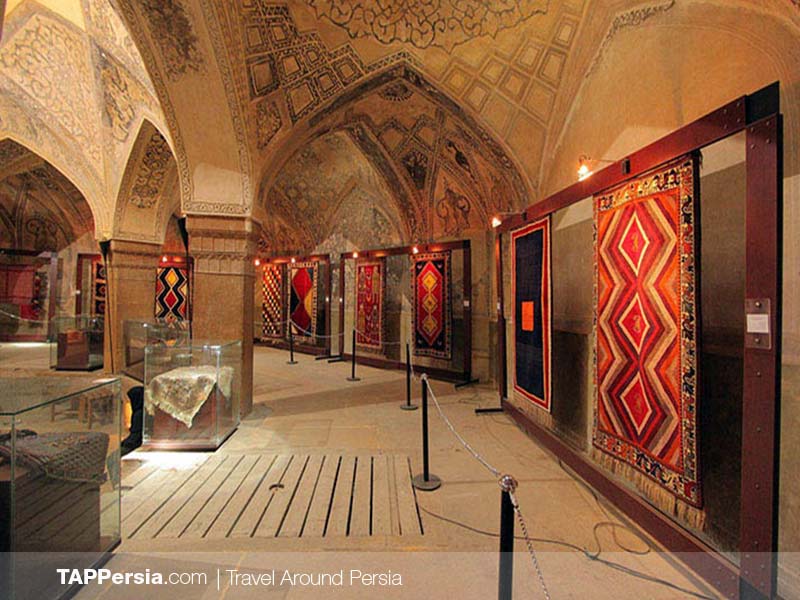 The Iranian Carpet Museum is one of the sights of Tehran that you can visit and with that hit some birds with one stone. The Iranian Carpet Museum is located in Laleh Park and you can visit this museum after all the fun in this large and old park. This museum is forty years old, displaying about 135 Iranian masterpieces. It is interesting to know that the Museum of Contemporary Art in Tehran is located near the same museum in Laleh Park.
*Address: Tehran, Enghelab Square, North Kargar St., Dr. Fatemi Intersection, southeast side of the intersection, Iran Carpet Museum
16. Tehran Aquarium and Peace Museum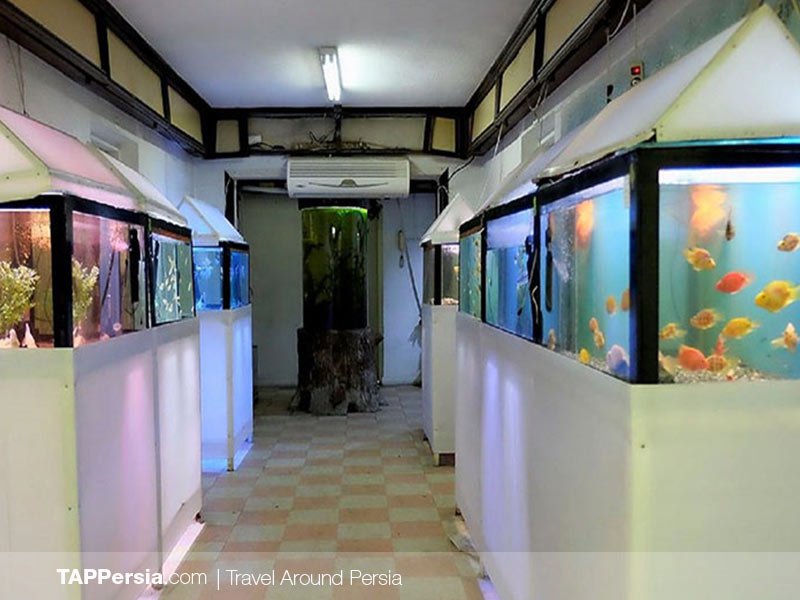 Shahr Park is one of the largest and oldest parks in the capital, which is considered a symbol of Tehran, too. There are several sections in this park that can complete your fun. That is why the city park should be considered one of the most important sights in Tehran. One of the most attractive and spectacular parts of this park is its aquarium and peace museum. In the aquarium you can see a variety of saltwater and freshwater fish up close. Tehran Peace Museum was established in 2007. It is interesting to know that the employees of this museum are veterans of eight years of Iran's war with Iraq. In this museum, you can get useful information about the war and its victims.
*City Park Address: Tehran, Vahdat Eslami St.
*Aquarium address: southeast side of city park
17. Saba Home Museum, a House With a Glorious Iranian Music Narrative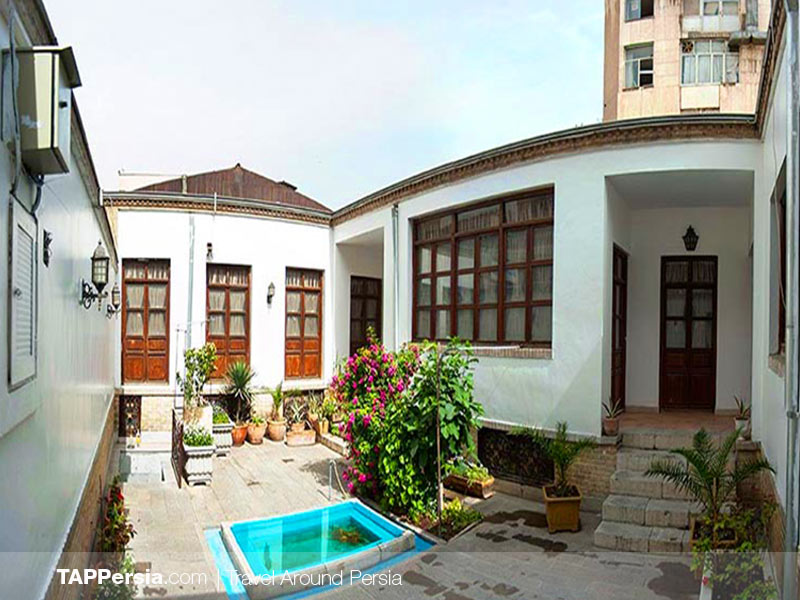 Abolhassan Saba was one of the masters of traditional music in Iran. Saba is one of the most influential figures in Iranian music and many great people consider his works as one of the most important activities in this field. This great master was one of the students of Kamal al-Molk and one of the closest friends of Iraj Mirza, Shahriyar, and Hossein Behzad (Great Iranian people in art, poetry, and music). Now, Abolhassan Saba House has become one of the sights of Tehran, which in addition to showing his personal life and the sufferings and joys he had endured, also gives useful information about Iranian music and instruments to the visitors.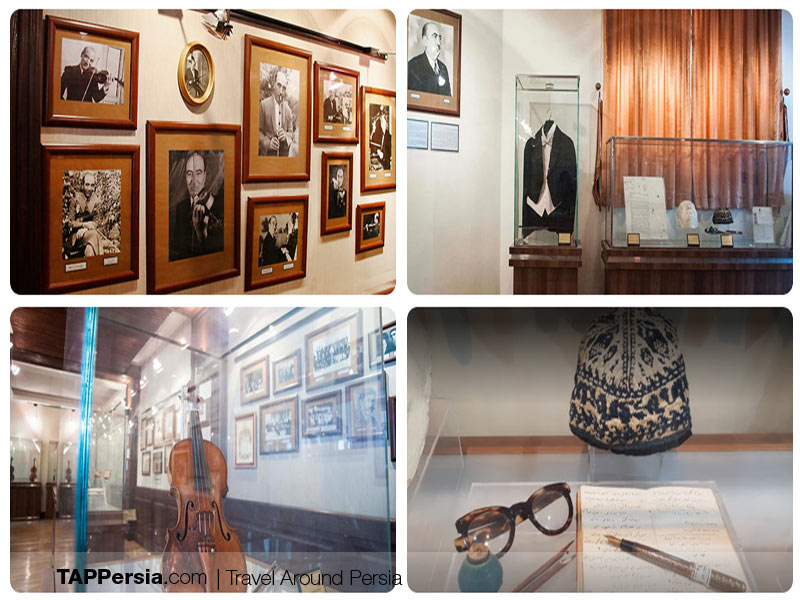 In this five-room house, you can see Saba's personal belongings and his poems and notes, and enter a period in which this great master brought the house to life with the sound of his instruments.
*Address: No. 94, Saba Dead End, Zahir Al-Salam St., Baharestan Sq., Tehran
*How to get there: You can use the subway to go to Abolhassan Saba's house. After getting on Line 2, get off at Baharestan Station and take a short walk
18. Simin & Jalal House Museum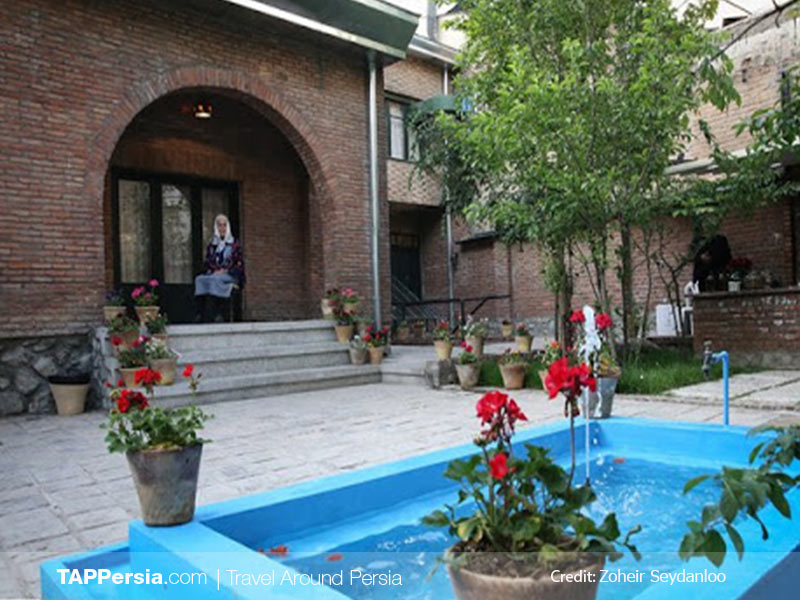 Simin and Jalal House Museum is one of the most attractive places in Tehran. And if you are interested in literature, poetry, and history, it is better to not miss it. This museum house, which is on Derazshib Street in the north of Tehran, is so spectacular and attractive that it is difficult for you to get bored there. You can not feel the great feeling you experience in this place anywhere else. The decorations of this house still remain in the old way and there are many beautiful and awesome old items there.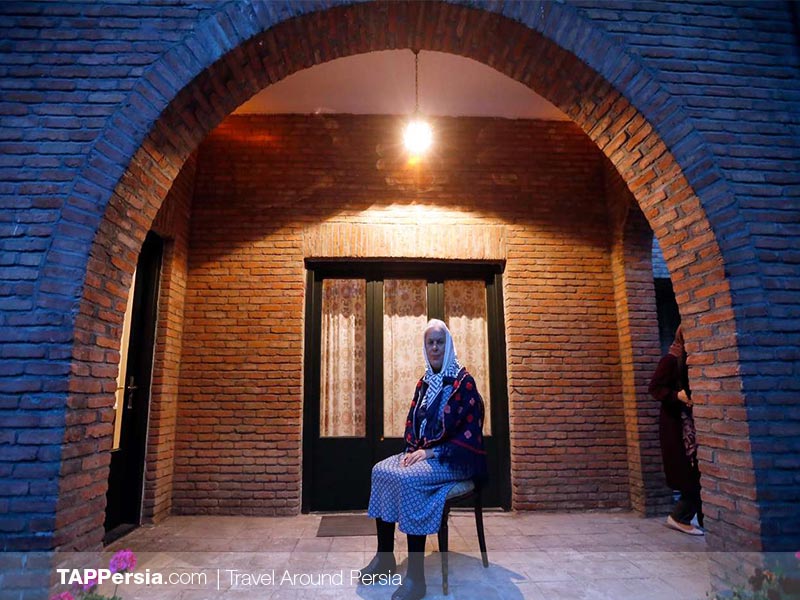 The wax statue of Simin Daneshvar and his husband Jalal Al-Ahmad has breathed the spirit of life into this house and perfected its beauty. The couple, who are among the greats of Iranian literature and poetry, once spent time in this beautiful old house, which today is a place to explore and enjoy.
*Address: Tehran, Dezashib, Shahid Ramezani St., Rahbari Alley, Pasandideh Alley, Banabast Arz, No. 1ow
*How to get there: To go to this museum house, you have to reach Tajrish and Dezashib streets. You can do this through Tehran Metro Line 1 and Tajrish Station or Line 7 of Tehran BRT and from there take a taxi to Dezashib Street.
19. Tehran Miniature Garden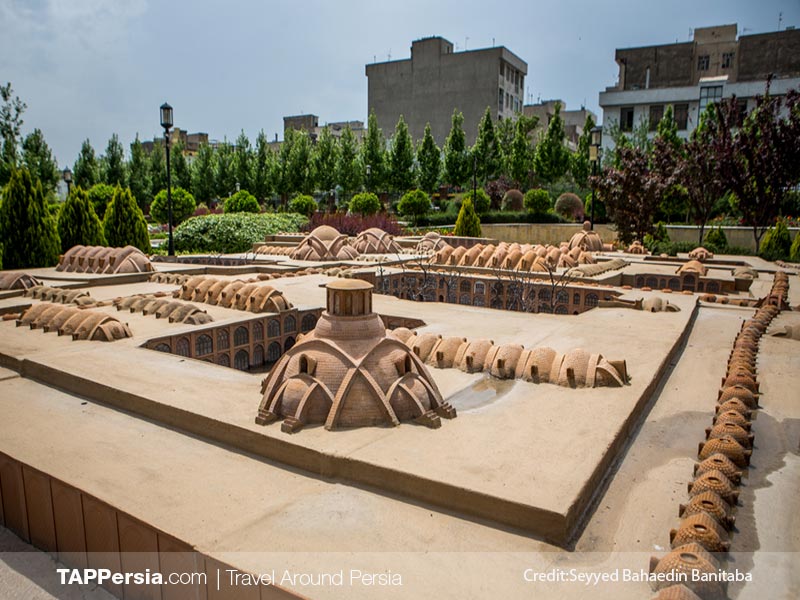 If you want to see an example of Little Iran, be sure to go to Tehran Miniature Garden. In this amazing garden, you can see a replica of Iranian antiquities and enjoy its beauties. These models depict interesting works such as Persepolis, Naghsh Jahan Square, Choghaznabil, Bam Citadel, Armenian Church, Tabriz Bazaar, Takht-e Soleiman, Gonbad Soltanieh, Sheikh Safi-ud-Din Ardabili Complex, Bistoon Mountain and the Inscription, Pasargad, and waterfalls. With each miniature, there is a board that lets you know all information about it.
*Address: Tehran, Janbazan Gharbi St., Imam Ali Highway, Tehran Miniature Garden.
Skiing in Winter and  Mountain Climbing in the Capital Of Iran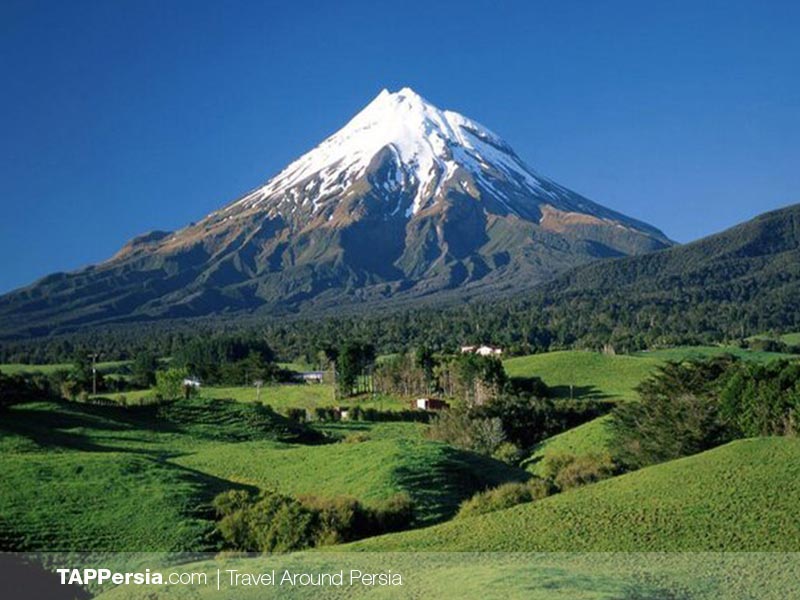 If you are fond of real mountain climbing Damavand Peak is the best option for you in Tehran. You can also go for Tocal mountain. But if you just like hiking or light mountain climbing, then Darakeh and Darband plus Jamshidiyeh Park are great choices for you. And again, if you are a fan of skiing, there are great amateur and professional ski resorts to enjoy the sliding.
20. Dizin Ski Resort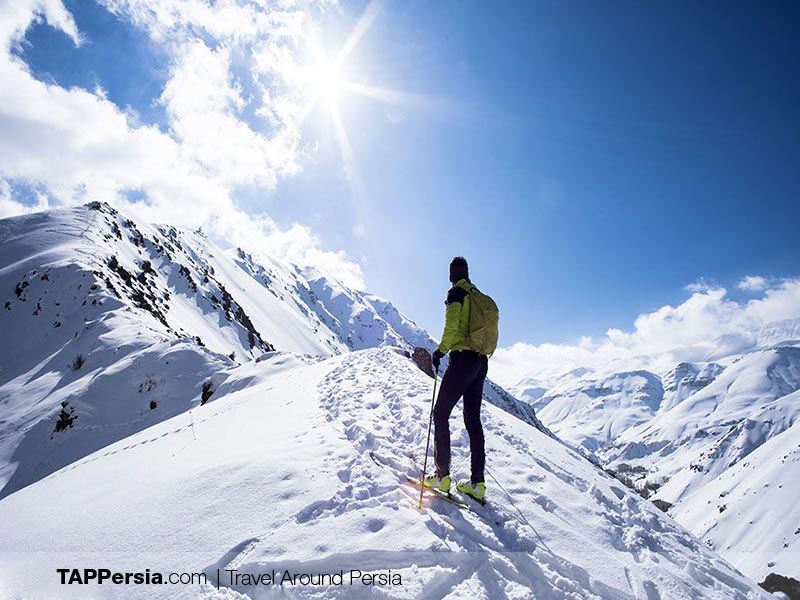 Dizin Ski Resort is one of the most important international ski resorts in Iran and the Middle East. This big resort is the first one that could get a license to hold international games in Iran. It is in the western part of Tehran. You can also access this resort through Fasham Road in the east of Tehran. However, in most cases, due to snowfall, Shemshak- Dizin road is closed and you should make sure in advance that the road is open. This resort has professional and complete amenities, services, and accommodation that you can take advantage of.
*Address: Karaj city, 74 km of Chalous road, Dizin ski resort
21. Tochal Ski Resort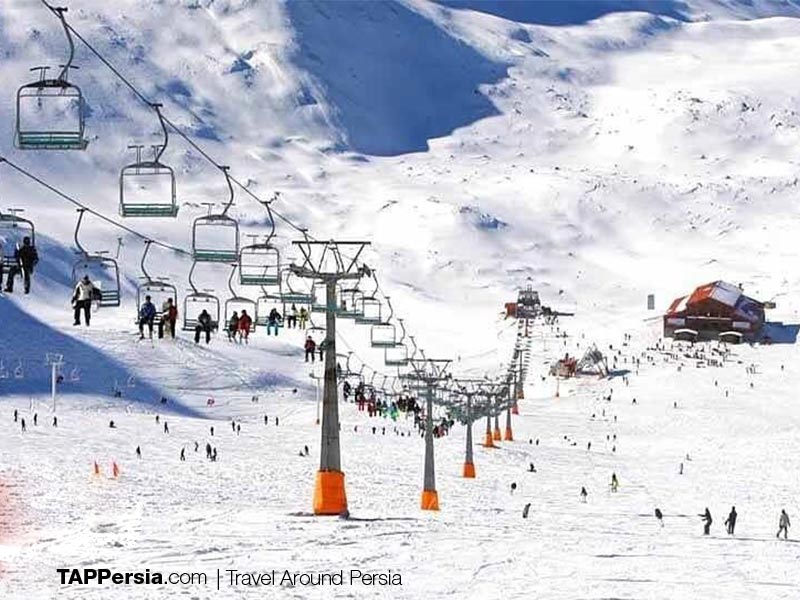 Tochal ski resort is one of the largest ones in Iran.  With three separate piste this resort will be suitable for entertaining thousands of athletes. It is in the north of Tehran and below the Tochal peak and has equipment such as ski lifts. You should also know that one of the most beautiful hotels in Tehran is located inside this resort area. Moreover, it has one of the world's longest gondola lift lines.
*Address: Tehran, Shahid Chamran Highway, Yemen St., End of Velenjak St.
22. Shemshak Ski Resort & Complex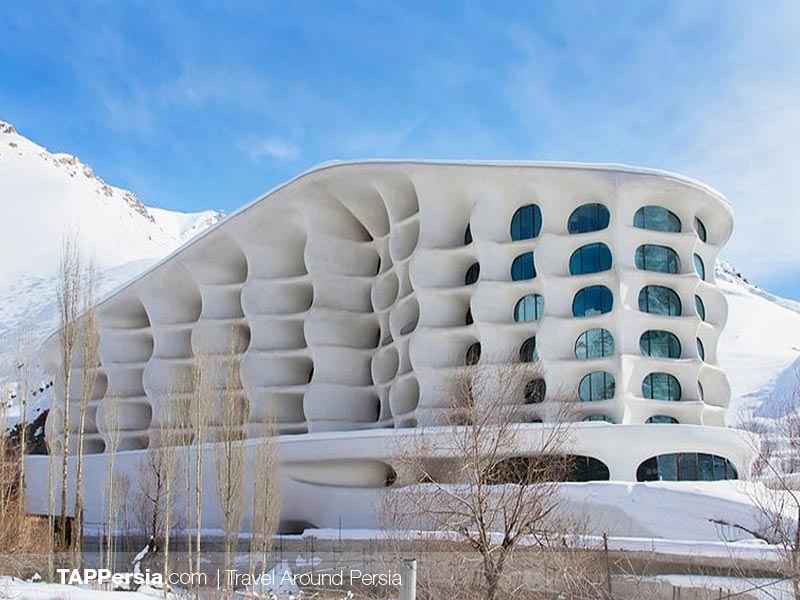 Shemshak ski resort was the second one in the world that was able to get the license to hold international competitions. This piste is very large and has facilities such as three different kinds of ski lift, a total of seven. There are also well-equipped hotels in the area that you can use. Shemshak has catered to more advanced skiers while Dizin has drawn beginner, intermediate and advanced ones.
*Address: Tehran, Babaei highway, Lashgarak road, Oshan Fasham road, Shemshak, Shemshak ski resort
23. Darband-Sar Ski Resort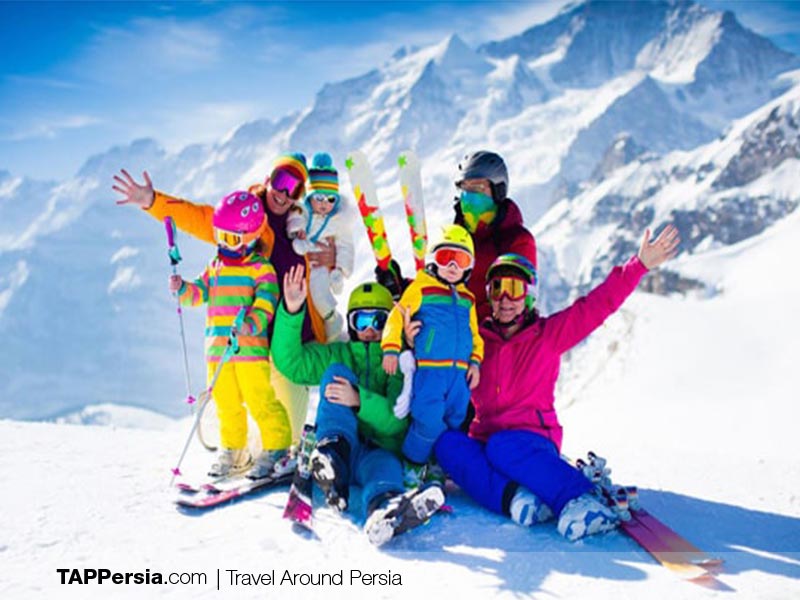 Tehran has many ski resorts as we learned about some of them so far, and now, another famous one is the Darbandsar. Not just in the winter, this resort attracts many people in other seasons as well. One reason might be the attractive cable cars. But the other reasons are the presence of amenities and entertainment, as well as various restaurants on this resort.
*Address: Tehran, Rudbar Qasran, Shemshak city, Darbandsar.
Tehran's Refreshing Beauties to Admire
24. Bame Tehran, Tehran Above the Clouds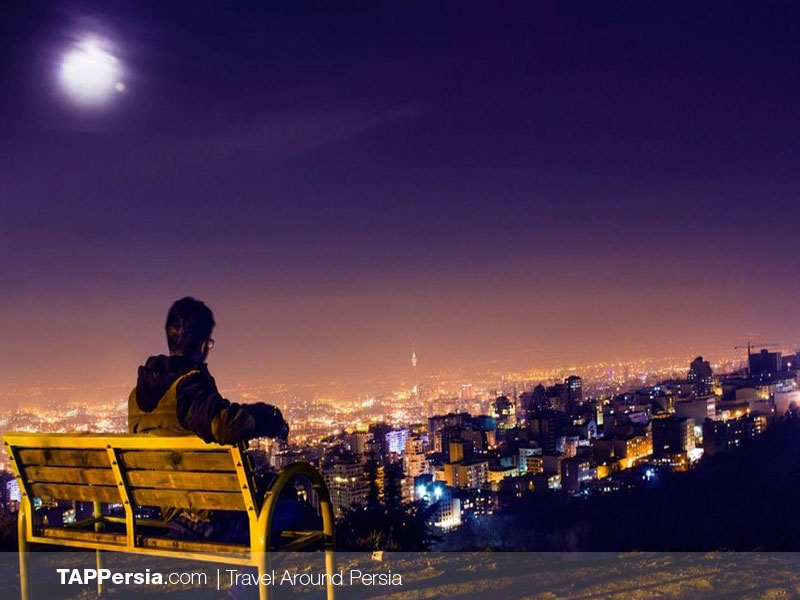 Many days we need to get away from the hustle and bustle of the city and move to someplace quiet. Bame Tehran is one of the best choices in these cases. It lets you experience silence and tranquility while watching the whole city from above. Bame Tehran or the roof of Tehran is a place where you can experience a sense of freedom and breathe fresh air. It is at the end of Velenjak Street and reaches Tochal Heights from the north. In this area, you can walk, run and exercise.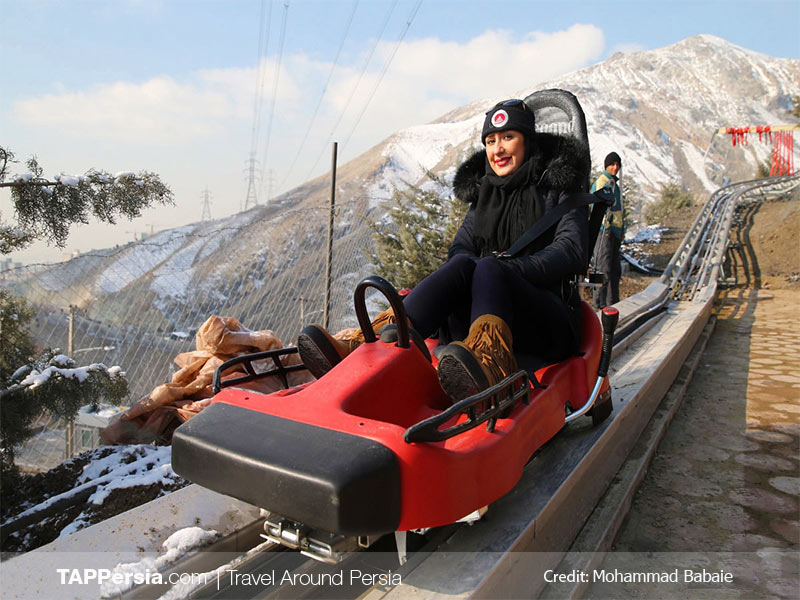 Many people prefer to go to the Bame Tehran on holidays and enjoy an attractive breakfast in the open air. Mountaineering, watching the amazing waterfall, zip line, shooting club, escape room and cable car resort are the attractions there that you will definitely enjoy.
*Address: Tehran, at the end of Velenjak Street, Tehran Roof.
*How to get there: To get there by car, take yourself from Chamran Highway to Yemen Street and enter Velenjik Street by going under the Parkway Bridge. Finally, at the end of Velenjak Street, you get to the Bame Tehran. To use public transportation, it is better to get to the beginning of Velenjek Street. From this area, you can easily get to the roof of Tehran by taxis.
25. Chitgar Lake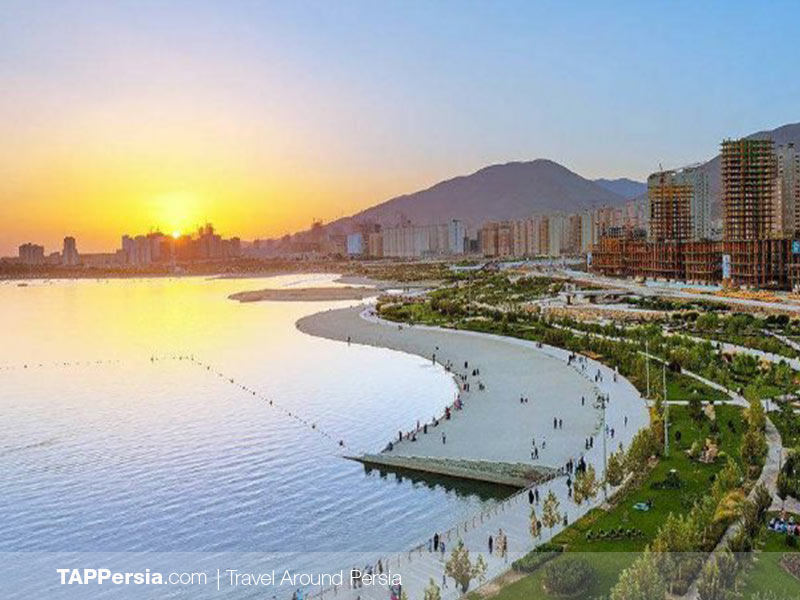 Persian Gulf Martyrs Lake or Chitgar Lake is one of the most crowded places in Tehran on Fridays. This area is an artificial lake. Many residents of the west of the capital prefer to spend their weekends in this area. There are several recreations around the lake that you can enjoy in four seasons. In addition, there are huge food courts around the lake where you can enjoy a delicious meal with a beautiful view of the lake and spend a memorable weekend with your family.
*Address: Tehran, District 22, Hemmat Gharb Highway, Chitgar Lake Exit
26. Fasham and Lavasan
Fasham and Lavasan region each are one of the most important sights of Tehran, even among the residents of the capital. They are on the northeastern outskirts of Tehran and are considered to be among the most pleasant areas of this city. There are many restaurants and cafes along the Fasham and Lavasan roads where you can have hours of fun and enjoyment. Some people also choose Fasham Road because of the restaurants along the river. You should also know that in the middle of the road it is possible to relax along the river and enjoy the pristine nature of the area.
*Fasham Address: Tehran, Bagheri Highway, Lashgarak Road, Imam Khomeini Boulevard, Fasham
*Lavasan Address: Tehran, Bagheri Highway, Lashgarak Road, Lavasan
Taking Street Food in Tehran
27. 30th Tir Street Food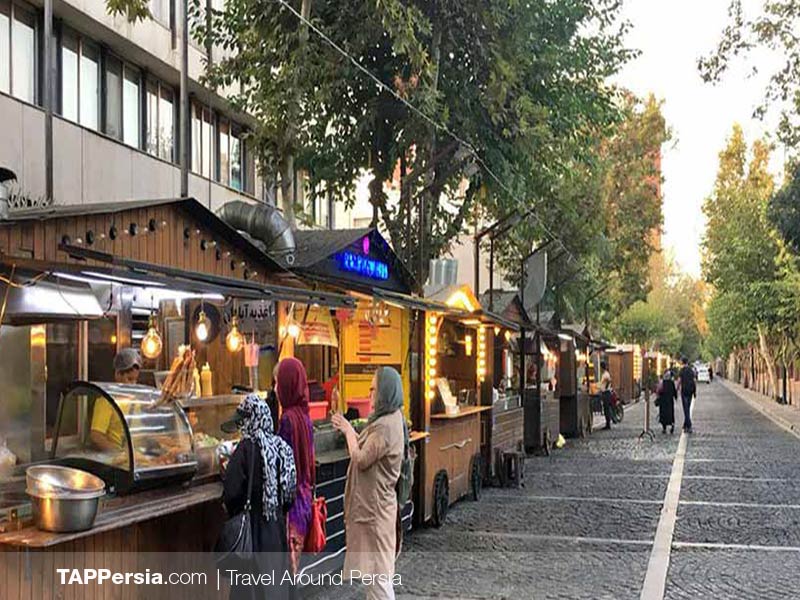 Traveling to old Tehran and walking in one of the most beautiful streets of Tehran is an attractive experience. Si Tir Street is the best street where you can experience a memorable tour. This street is located in the center of the 12th district of Tehran and has many sights. Si Tir is the name of one of the most original neighborhoods of the capital, which was renamed from Ghavam Al-Saltanah Street due to the uprising of the people on 30 Tir 1331 (21 July 1952).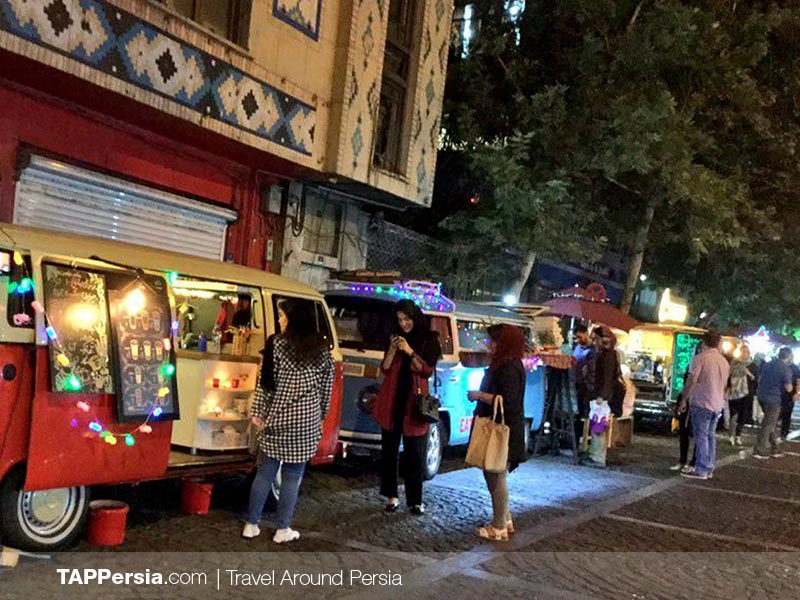 In this street you can see small and traditional stalls that cook and serve the most delicious food. From delicious tea and baklava to soups and stews and a variety of kebabs or fast food you can enjoy on 30 Tir Street. This charming cobblestone street takes you to amazing sights you will not find in any other city. The nights of Si Tir Street are full of color,  and light, and the sound of street music makes it very charming.
*Address: Tehran, Imam Khomeini Sq., Si Tir St.
*How to get there: You can take the subway or bus to Imam Khomeini Square or Hassanabad, and from there walk to 30 Tir Street.
Luxury Show-off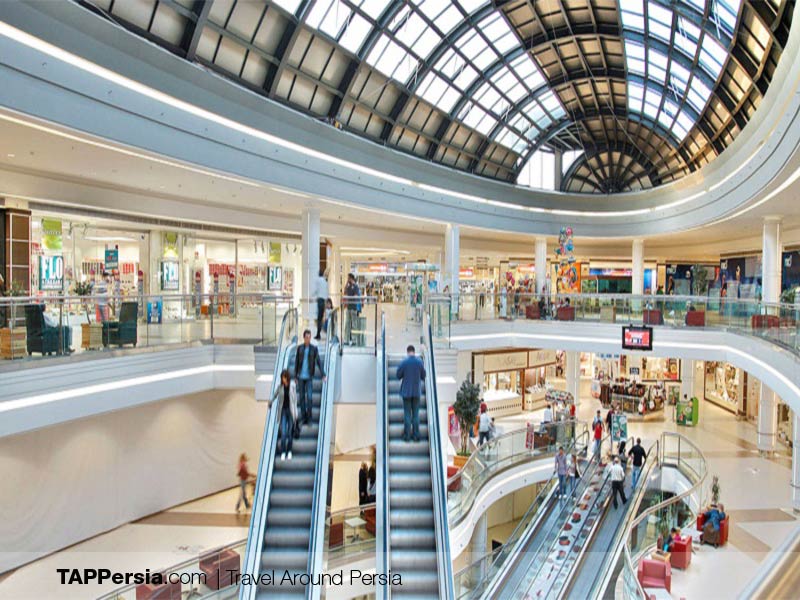 Most probably you have heard about Tajrish Grand Bazaar also. Tehran Bazaar is one of the oldest, largest and at the same time the liveliest buildings in Tehran, which is always full of buyers, sellers, and tourists. You can learn more about this great traditional bazaar at this link. But let's get to Know a lux place you can buy some expensive stuff and some spots that take pride in their luxury.
28. Iran Mall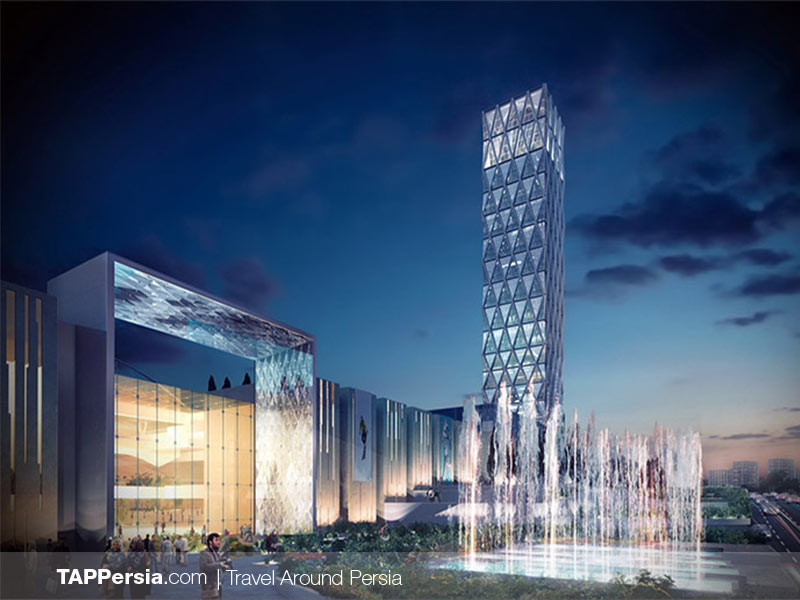 Iran Mall Commercial Complex is one of the largest and most beautiful shopping centers in Tehran and the Middle East, which has been under construction for a short time. This large passage is built in an area of ​​one million and 700 thousand square meters. It is interesting to know that Iran Mall is the fifth-largest commercial complex in the world. This commercial complex quickly became one of Tehran's attractions on Fridays, and many residents of the capital come to this place to tour or use the Iran Mall Cinema Campus.
*Address: Tehran, Shahid Kharazi Highway West to East, before the Chitgar Lake exit
29. Tabiat Bridge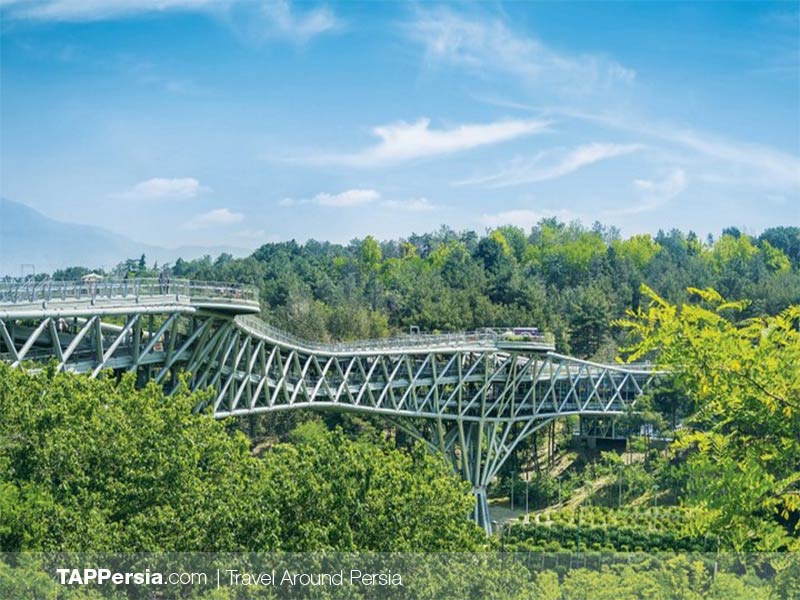 We can say the construction of the Nature Bridge has been one of the best urban planning decisions in recent years. This beautiful bridge is on the Modares Highway and connects Taleghani Park in the east and the Water and Fire (Ab-o Atash) Park in the west. Nature (Tabiat) Bridge is one of the tourist attractions of Tehran, where you can go for a walk and see the highway, or you can visit other places around it in the parks.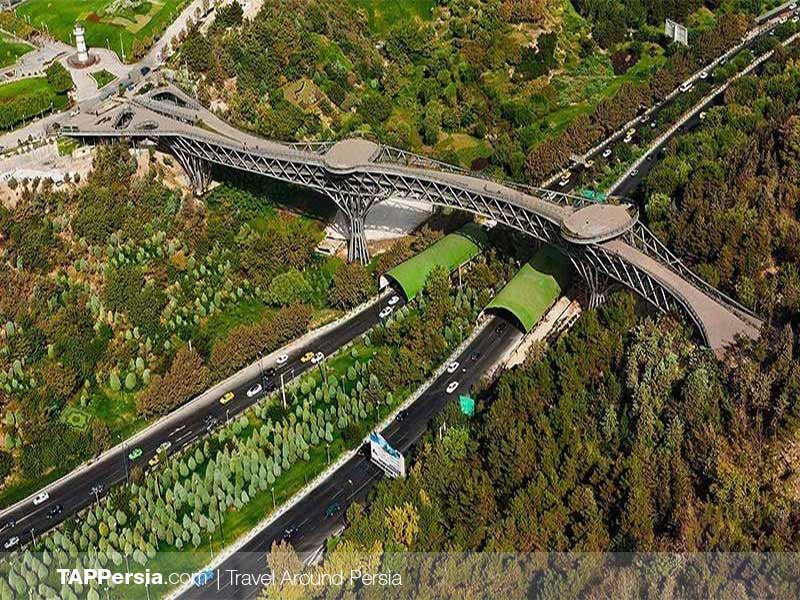 The lighthouse of the Ports (Banader) Park, the fire towers of the Ibrahim Park, and the Mina Dome are some of the stunning places that make your daily trip more enjoyable. Moreover, if you like, you can go to the cafes located on the Nature Bridge and enjoy your favorite food with a beautiful view of Tehran.
*Address: Tehran, Vanak Square, Haqqani Highway, after Jahan Koodak intersection, Abo Atash park.
30. Enghelab Sports Complex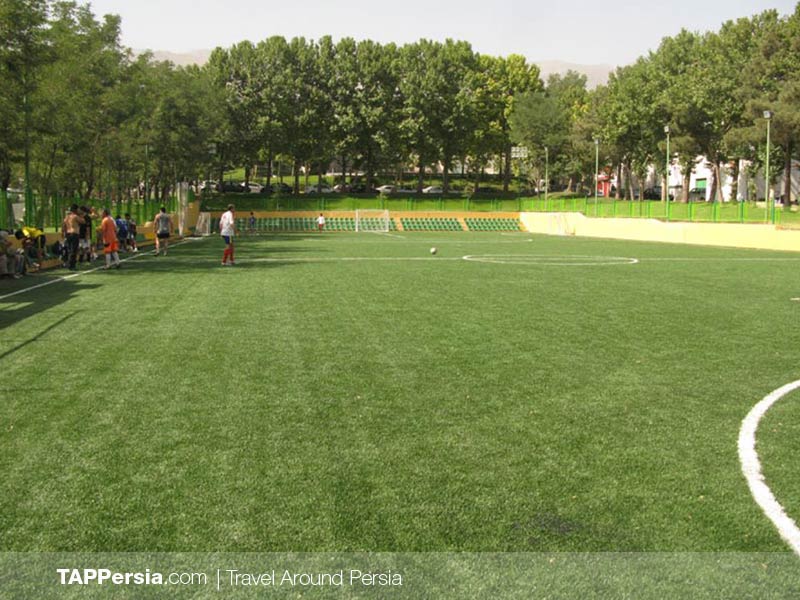 The sports complex of Enghelab has been called "the green jewel of Tehran" because of its special geographical location and clean air. This complex has 10,000 square meters of cultural space and 60 hectares of space for indoor and outdoor sports.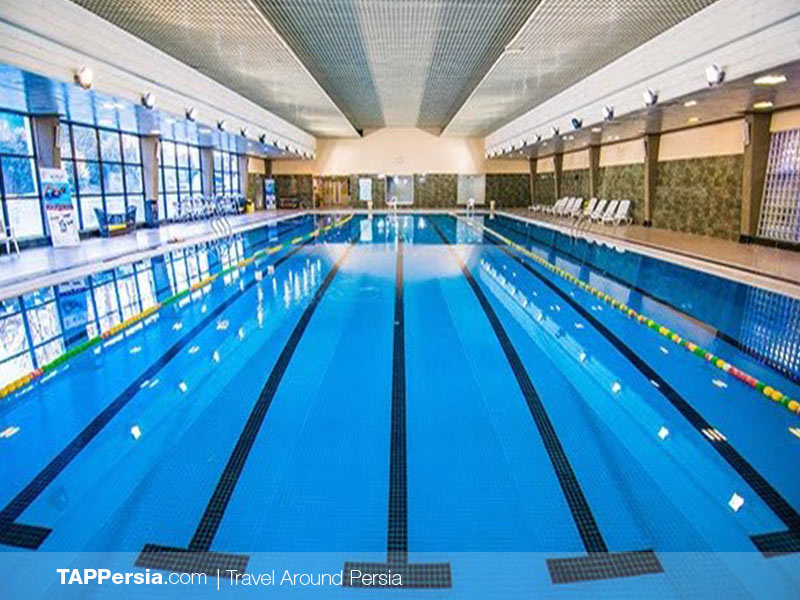 This complex has the most complete facilities in the fields of "Golf", "Tennis", "Squash", "Volleyball", "Basketball", "Football", "Swimming", "Sauna", "Bodybuilding", "Karting", fishing and martial arts for those who are a fan. The "Health Road" or Tandorosti Road is about 2,500 meters long and is one of the most beautiful parts of the Enghelab Sports Complex, which wraps around the beautiful golf courses like a ribbon.
*Address: Vanak, Seoul Street.
*How to get there: You can use the Shahid Sadr Metro.
Final Words
Except for all the attractions we reviewed fortunately there are a lot more to enjoy in this big city. But unfortunately, this article has been long enough already. I will mention some of the other spots here so that you can check them out and learn more about them if you like:
Tehran Jurassic Park, Emamzadeh Davoud, Toghrol Historical Tower, Mosaddeq House, Saint Sarkis Cathedral, Sepahsalar Mosque And School, Hasan Abad Square, Tehran Botanical Garden, City Theater, Tehran Book Garden, Ghazali Cinema Town.
Hopefully, we will provide you with more information about these other top things to do in Tehran and add the links soon. Thank you for joining us through this almost long journey. If you liked it please let us know in the comments. And in case you need more information or you want to book a tour with Tappersia you can reach us via the contact information below the same page.
---
Recommended Tours