Iran is home to some of the world's oldest bazaars, which formerly connected China and Europe along the legendary Silk Road. Trade and cultural interchange took occurred daily at Iran's Grand Bazaars, which attracted traders from cities such as Bukhara, Samarkand, Istanbul, and Turkestan. People from all walks of life gathered at the market, and it also united the various regions of the city. Iran's bazaars are among the top tourist destinations in the world just based on their ancient architecture. The covered marketplaces resembled a small city all to themselves. The Safavid period represents the pinnacle of Iran's traditional bazaars and markets.
Without further ado, let's discuss some of Iran's famous Persian bazaars.
Name
Location
Notes
Ardabil Bazaar
Ardabil
The Safavid Dynasty saw the construction of the Ardabil Bazaar in Ardabil, northwest Iran. The bazaar was described by historians as a cross-shaped structure with a domed ceiling in the fourth century. It was built during the 16th and 18th centuries by the Safavid dynasty and rebuilt in the 18th century by the Zand dynasty. Bazaars of groceries, butchers, knife sellers, leather workers, hats, and other shops are just a few examples found both inside and outside of Bazaar of Ardabil. Unfortunately, the stone sculpture on the eastern doorway, which likely carries the name and description of the bazaar's constructor, cannot now be read.
Bazaar of Borujerd
Borujerd
The Great Bazaar of Borujerd, which is in the city's center, is made up of several Rasteh Bazaars and Caravanserais. A road with a covered roof that often houses stores and workshops for a certain trade is known as a Rasteh bazaar.

Both trade and business travel has taken place out of caravansaries. The caravansaries of Borujerd are now a significant hub for the wholesale trade in Persian rugs and other handicrafts on a regional, national, and worldwide scale.

Bazaar of Shahrud
Shahrud
Shahrud, the historic part of the city, is home to Shahrood Market, which has ties to the Qajar dynasty. From shops selling dresses to aromatic spices, this bazaar has everything you are looking for.
Bazaar of Saqqez
Saqqez
The city's central Great Bazaar of Saqqez is made up of several smaller bazaars and caravanserais. One of Iran's most intriguing and stunning bazaars is this one.
Bazaar of Tabriz
Tabriz
Iran's Tabriz city center is home to the Bazaar of Tabriz, a medieval market. It is both the largest covered bazaar in the world and one of the Middle East's oldest bazaars. In Iran, it is a UNESCO World Heritage Site. The market's roof height is between five and six meters, which is less than the roofs of markets in tropical countries. The market's breadth is between four and five meters.

The Tabriz Bazaar, one of the most stunning and well-connected markets, is proof of the East's distinctiveness in both trade and design.

Isfahan Grand Bazaar (Isfahan's Bazaare Bozorg)
Isfahan
On the southwest wing of the Kohneh Square and Jameh Mosque, it was initially constructed in the 11th century, but later additions included a number of arcades and chambers. The Qaysariyeh Bazaar was constructed on the north wing of Naqsh-e Jahan Square, which was created as a replacement for Kohneh Square, during the Safavid dynasty, leaving behind the current remains. The market is one of the largest and oldest in the Middle East and the longest covered market in the world. It dates to the Saljuqid and Safavid eras. This large bazaar with its old shops is a place of architectural significance because of its traditional and historical design.
Tehran Grand Bazaar (Tehran's Bazaare Bozorg)
Tehran
The area around Tehran has been inhabited since at least the 6th millennium BC, and bazaar-like structures in Iran as a whole date back to the 4th millennium BC. However, Tehran's bazaar is not that old. It is difficult to pinpoint the precise beginning of the bazaar, but in the years following the Muslim conquest of Iran, visitors noted a rise in trade in the region where the modern market currently stands. The cuisine is one of the Bazaar's main draws for both visitors and residents alike. The Grand Bazaar in Tehran is the ideal location to sample regional specialties, as well as traditional foods and fresh produce. Your senses will be overwhelmed by the many aromas and sensations as soon as you enter. Don't forget to sample some fresh fruit and the really popular saffron ice cream from Iran. You may also sample the unique cornelian cherries and salted green almonds, depending on the time of year.
Bazaar of Kashan
Kashan
The historic Kashan Bazaar is located in the heart of Kashan, Iran. It's thought that it was built during the Seljuk period and restored during the Safavid period. The Timche-ye Amin od-Dowleh area of the bazaar, where a substantial light well was constructed in the 19th century, is where the bazaar's famed architecture can be found. The bazaar is still in operation and has a length of a few kilometers. In addition to the major Persian bazaars, the complex of the bazaar has a number of tombs, plazas, mosques, arcades, baths, and water reservoirs that were all built at a separate times.
Vakil Bazaar
Shiraz
The major bazaar in Shiraz, Iran, is called Vakil Bazaar, and it is situated in the city's old quarter. Only in the 18th century was Karim Khan Zand given credit for naming the market. It is believed that the Buwayhids first founded the market in the 11th century AD. The Atabaks of Fars were primarily responsible for its completion. The market is one of the greatest sites in Shiraz to buy spices, Persian carpets, copper handicrafts, and antiques since it contains lovely courtyards, caravansaries, bathhouses, and historic stores. Similar to other Iranian bazaars in the Middle East, a few mosques and Imamzadehs have been built next to or behind the bazaar.
Sanandaj Bazaar
Sanandaj
A sizable market with a history dating back over four centuries is called Sanandaj Bazaar and is located in the city's center. It was built during the Safavid era. Sanandaj Bazaar features a rectangular plan, in contrast to other bazaars in Iran which were constructed on a linear plan. There are several distinct Saray locations in the middle of this rectangle. The dome- and vault-shaped ceiling of the market was constructed out of bricks and stones. Three entry gates are relics from earlier times and are interesting to look at. Sanandaj's market is brimming with vibrant garments. If you wander around Sanandaj's market, you will frequently see men wearing the local dress of baggy pants and a belt.
1.Tehran Grand Bazar (Tehran's Bazaare Bozorg)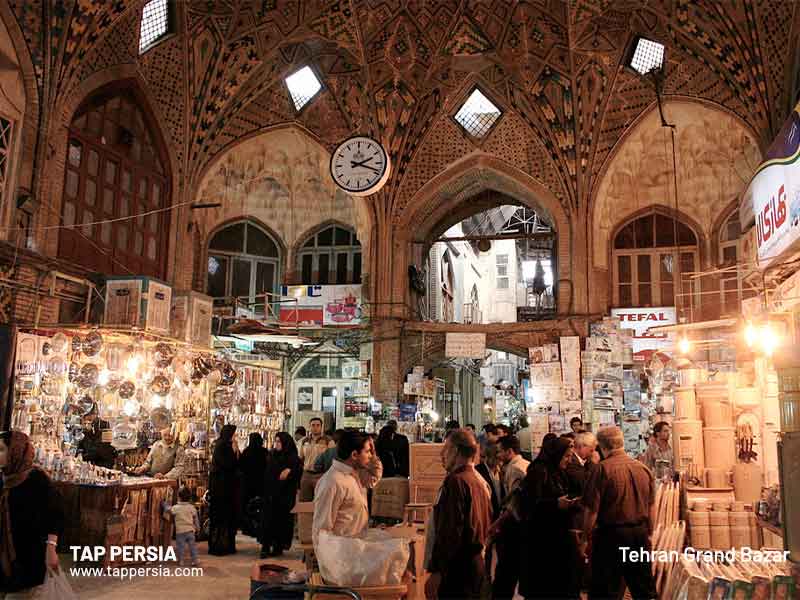 Being able to see Tehran's oldest market sounds amazing. Visitors are treated to wonderful visual delight because of its historic architecture. Furthermore, it is Tehran's sole wholesale hub. But it doesn't mean you can't go shopping in this area. It provides practically every kind of merchandise to other stores in Tehran. Additionally, this bazaar is the greatest spot to purchase for individuals who care about low pricing. Remember that it contains distinct little Persian bazaars that each sell a certain commodity. As a result, you should identify the specific part from which you intend to make purchases. There are also other well-known eateries nearby that serve cuisine from Iran that are extremely excellent.
Location of Tehran Grand Bazaar
The heart of the city is where you'll find the ancient Tehran Grand Bazaar. Its southern portion is bordered by Molavi Street, while its eastern, northern, and western borders are all surrounded by Panzdah-e Khordad, Mostafa Khomeini, and Khayyam streets.
We advise you to visit Golestan Palace, Sardar-e Bagh-e Melli, Negarestan Garden, Greek Orthodox Church of Saint Mary, National Museum of Iran, Moghadam Museum, Ebrat Museum, and Masoudieh Palace if you want to see other awesome local sights.
History of Tehran Grand Bazaar
Agha Mohammad Khan, the progenitor of the Qajar dynasty, picked Tehran as the location of Iran's capital in the nineteenth century. However, they did not make many new alterations to Tehran's surface. Therefore, the Grand Bazaar is another structure that harkens back to this time period, along with some royal palaces, mosques, a gate, and the Shams-Ol-Emareh residence. The fact that many places' architecture is not Iranian is a noteworthy aspect. During his fifty-year rule, Naser ad-Din Shah commissioned a group of French architects to create a number of significant gateways and areas.
The main attraction in Tehran, according to visitors, has been this market, which dates back to the 19th century. Previously, this market was the sole location where local and foreign items could be traded. Later, it was the center of attention for political, social, and economic movements. However, because of the unique architecture of this bazaar and the abundance of alleys, it was a really difficult mission to apprehend the protesters. These alleyways have all harbored dreadful memories.
The Architecture of Tehran Grand Bazaar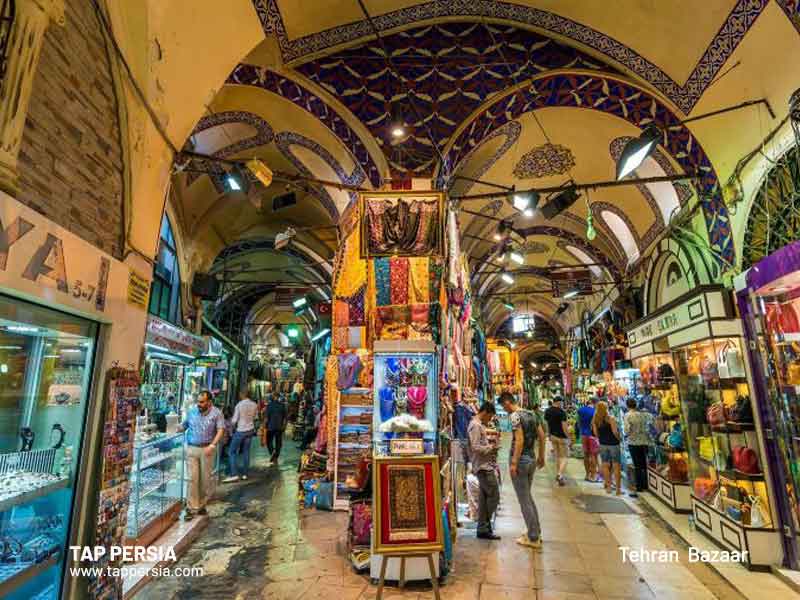 The current architecture of the Tehran Grand Bazaar is distinctive and intricate. Its attractiveness has been enhanced by eye-catching arches, winding hallways, and conventional air conditioning systems. There are both modern and traditional entertainment venues. Traditional teahouses, the Zoor Khaneh (Traditional Persian Gym), mosques, public restrooms, and other places of worship are a few examples. After a while, other specialized areas known as "Bazaarcheh" or mini bazaars for each good began to appear; for example, a specific section reserved for gold, or for cosmetics, and so on.
Shopping in Tehran Grand Bazaar
Time to go shopping! The Tehran Grand Bazaar has everything you could possibly need to purchase. However, you must understand where exactly to go for each thing. The following is a list of these locations to help you get there:
Women's Clothes
Shop for scarves, gloves, caps, and other accessories in the busy Jafari Bazaar. Surprisingly, this bazaar's pricing is close to 50% less expensive than those of Tehran's shops.
Confections & Nuts
You will pass shops selling fresh and dried fruits & vegetables, tasty dried nuts, and delicious confections in Chahar Suq Bazaar. This area is close to Masjed Jame, and the plasterworks of the Chaharsuq-e- Bozorg are both distinctive and beautiful.
Home Accessories / Home Décor
The Hajeb Ol-Dolleh Bazaar will astonish you with the variety of goods it offers, not to mention the reasonable costs.
Bags
In Moshir Khalvat, you may get sports bags, party bags, kids' bags, backpacks, luggage, and suitcases. The issue is that the stores related to this department are entirely wholesale. Consequently, it could be challenging for you to purchase only one bag. However, you are fully aware that nothing's impossible! So relax and don't worry about it.
Gold, Jewelry, Watch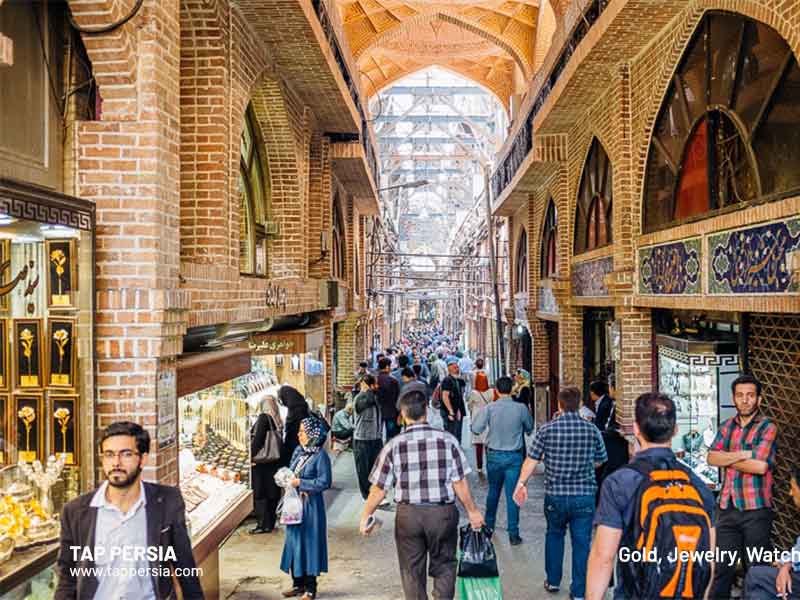 In comparison to other gold businesses, Zargarha Bazaar has a good location and offers reasonable-price gold and jewelry.
Stationery
Purchase writing or design tools at the Bein-Ol-Haramein Bazaar. Every single thing you might require has a unique brand.
Beauty Products
The finest place to shop for high-quality makeup supplies at affordable costs is Marvi Alley or Koocheh Marvi.
The Best Time to Visit Tehran Grand Bazaar (Bazaare bozorg)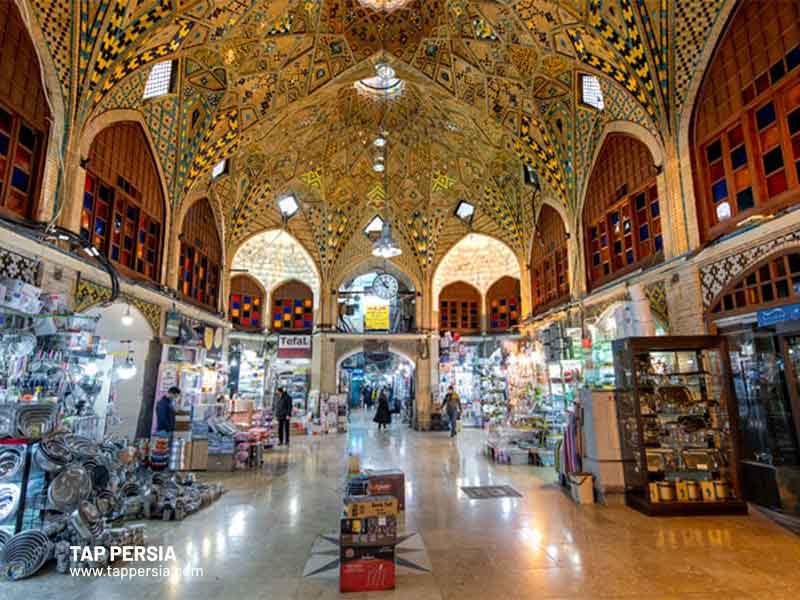 Every day from 8 AM until 9 PM or later, the Tehran Grand Bazaar is open.
Don't think that your visit will only last an hour. It is simple to lose an entire day to explore. Half a day is the bare minimum you need if your time is truly constrained.
Where to Eat near Tehran Grand Bazaar (Bazaare Bozorg)?
The Tehran Grand Bazaar is home to a number of renowned eateries where you may enjoy delicious Persian cuisine, including several kebab varieties. Some of these eateries date back more than a century. Nayeb, Moslem, Shamshiri, Sharaf al-Eslami, Haj Morshed, Javan, and a few others are some of their names.
Where to Stay near Tehran Grand Bazaar (Bazaare Bozorg)?
Since Tehran Grand Bazaar is situated in the city's center, there are numerous lodging options nearby. So, you don't have to worry about finding a place to stay. The top hotels near Tehran Grand Bazaar include Tehran Traditional Airan Hostel, Okhovvat Hotel (1-Star), Samen Hotel (1-Star), Ziba Hotel (2-Star), Arman Hotel (2-Star), Golestan Hotel (2-Star), Amirkabir Hotel (2-Star), Shiraz Hotel (3-Star), Fars Hotel (2-Star), Ferdowsi Grand Hotel (4-Star), Khayyam Hotel (1-Star), and Asia Hotel (1-Star).
How to Get to Tehran Grand Bazaar (Bazaare Bozorg)?
if you choose to travel alone. The southern region of Tehran is home to Tehran's largest bazaar. The primary entrance is at Sabze Meydan, directly across from the Golestan palace, but there are other entrances as well.
The Tehran Grand Bazaar is conveniently accessible by metro. Take the red line, and the Panzdah-e-Khordad or Khayyam stations are where you should get off.
If you have an Iranian sim card and would want to arrive by cab, you can also use tap30 or snapp, which are Iranian names for Uber. Just be in mind that the metro will move considerably more quickly and that the traffic may be insane.
 Is bazaar a Persian word?
The word bazaar comes from Persian, where it was used to describe a town's central public market area. The "network of merchants, bankers, and craftspeople" that operate in that region is also referred to by the term "bazaar" on occasion.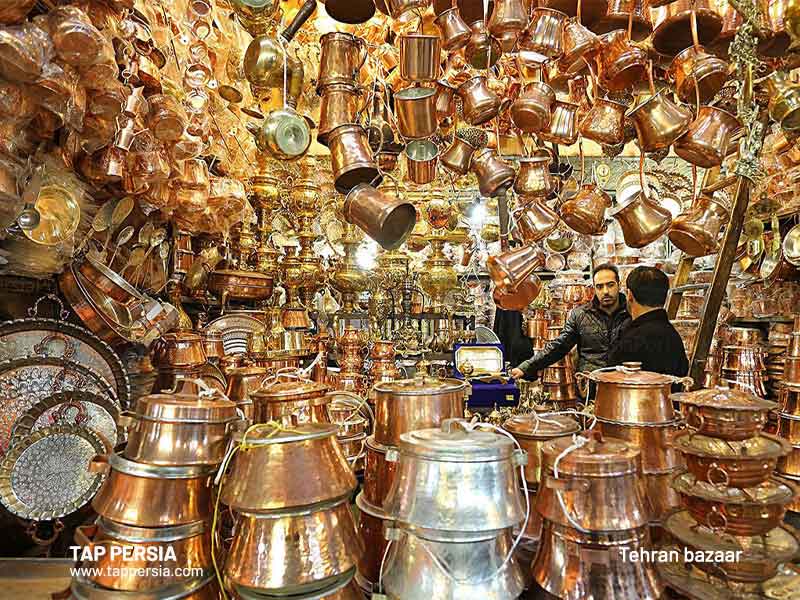 How old is the Tehran bazaar?
While some claim that it was created during the Qajar era in the late 19th century, others insist that the original Bazaar structure was constructed during the Safavid era in the late 17th century. In any case, it is generally acknowledged that the bazaar became more significant once Tehran was chosen as Iran's capital in the 19th century.
Other Important Traditional Bazaars in Iran
Other significant bazaars in Iran worth visiting include those outside and far from Tehran's Grand Bazaar. Here are some well-known examples of great Bazaars in Iran:
2.Ardebil Old Bazaar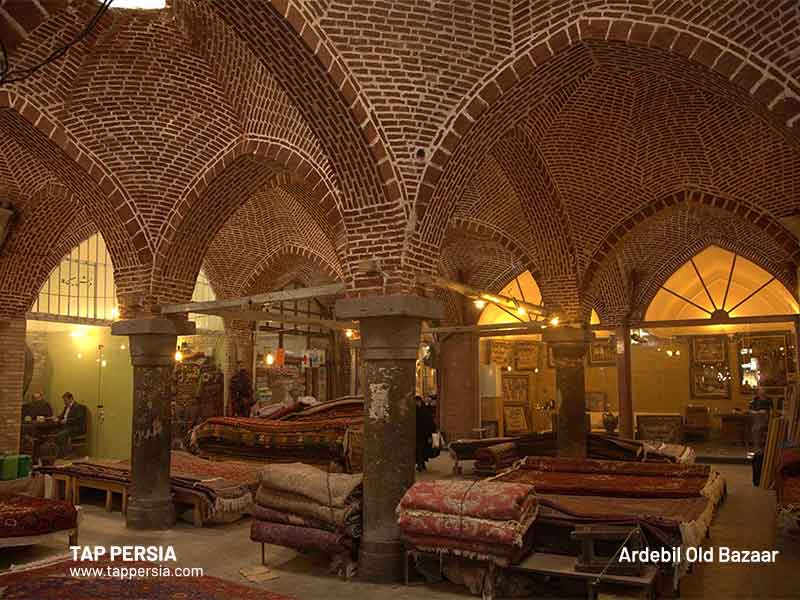 The Seljuk era saw the construction of the Ardabil Bazaar Complex, which is situated in Ardabil city. In 1985, Iran officially recognized this cluster of bazaars as a part of its national heritage. The Safavid era saw great prosperity in this market. In the city's center, on either side of Imam Khomeini Street, is the famous Ardabil Bazaar complex. It has a strong chance of becoming a UNESCO historical site because of its age and traditional architecture. It is worth visiting because of the local cafes, traditional handicrafts, distinctive architecture, and native fruits and nuts that are available in large quantities.
3.Shiraz Vakil Bazaar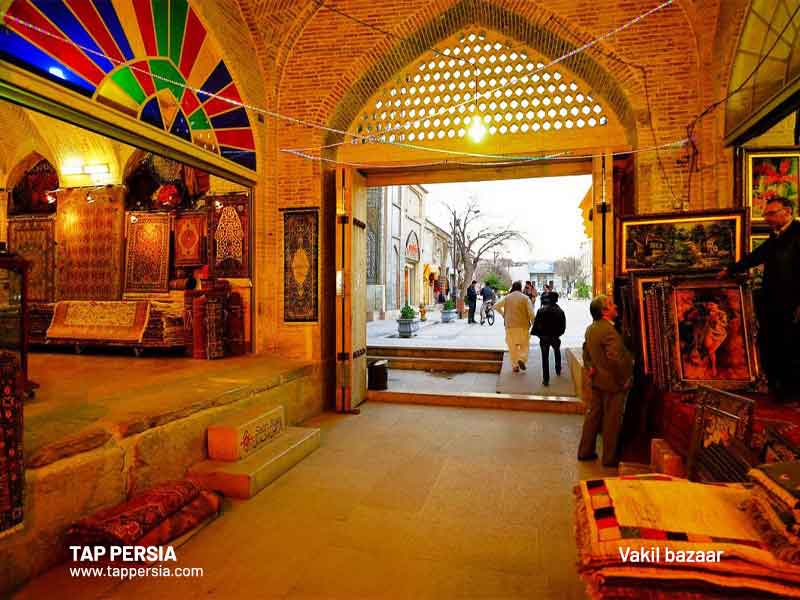 The Vakil Bazaar, also known as the Vakil Al-Roaya Complex, is one of Iran's most renowned traditional and ancient markets. The Karim Khan Zand-commissioned construction of this Persian bazaar is presently found in Shiraz's main square (east of Shahrdari Square). The mosque and the famed Vakil Bath are two other locations close to the bazaar.
Vakil Bazaar's development and completion took place during the years 1137 and 1156 AH. In 1982, Iran officially recognized Shiraz Vakil Bazaar as a part of the national cultural heritage. Shiraz Bazaar is a must-see historical monument in Shiraz because of its convenient position to many tourist attractions, distinctive architecture, lively atmosphere, and attractiveness. It also offers valuable handmade rugs, stones, and souvenirs.
4.Tabriz Old Bazaar
The Tabriz Bazaar, which is listed on the UNESCO World Heritage List, is one of the biggest indoor markets in the entire world and one of Iran's most active historical markets. This market is distinct from other marketplaces in Iran since it contains a variety of social systems.
The presence of numerous mosques and schools, as well as continuous brick buildings, the high arches and domes of the bazaar, numerous temples, and the design of the halls all point to the presence of superb examples of a commercial setting in addition to Islamic architecture. There are a lot of mosques, schools, and homes in Tabriz Bazaar, which has more than 5,000 stores. The market in Tabriz is known the world over for its carpet department.
5.Kashan Old Bazaar
Traditional markets are a mainstay of historical cities! Despite not being a large city, Kashan is charming and beautiful on its own. One of Iran's top traditional markets is without a doubt Kashan's. where, as soon as you step inside, the aroma of its well-known roses will enthrall you! particularly if you visit in the spring. The medieval Persian bazaar of Kashan may surely be regarded as a unique example of architecture and history coming together. Enjoy a cup of hot, rose-flavored tea in the Kashan Bazaar's core!
6.Bazaar of Borujerd
The primary economic hub of Borujerd city is the enormous Borujerd bazaar, known to locals as "Rasa," which refers to the market order and is utilized by residents of Borujerd and nearby areas. In the provinces of Lorestan, central, and Hamedan, this market is also vital to local trade. In the spring and summer, the tribesmen of the Lar and Bakhtiari spend a lot of time shopping in the market.
Rassa, or the bazaar of shoe shops, which is the largest Rasteh, Bazaare Kaftar Forushha for birds and pigeons, Bazaare Chelengarha for blacksmiths, Bazaare Mesgarha for coppersmiths, Bazaare Ghofl Sazha for locksmiths, and Bazaare Yahoodiha, or the Bazaar of Jews, are a few of the significant Rasteh Bazaars of Borujerd.
Both trade and business travel has taken place out of caravansaries. The caravansaries of Borujerd are now a significant hub for the wholesale trade in Persian carpets and other handicrafts on a regional, national, and worldwide scale.
7.Bazaar of Saqqez
One of Rojhalat's historical sites, this bazaar is thought to have existed during the reign of Zandieh and was later restored throughout the Safavid and Qajar eras based on the remains of caravanserais and Iran bazaars including the Jewish Bazaar and Tajvanchi Caravanserai. It is being researched and worked on to revive old bazaar locations such as the Domenareh Mosque, the caravanserais, and the Haj Saleh Hammam, as well as to build a history museum.
This bazaar is divided into two main sections by the covered river Vali Khan, which is located between Sarpacheh bazaar, now known as Fakhr Razi street, and the Castle bazaar. Saqqez Bazaar is made up of a number of smaller Bazaars that are separated by the products and vendors that are sold there.
These marketplaces include the "Bazzar of Bala," which specializes in high-end merchandise, and the "Bazzar of Paein," which offers more conventional items including clothing, wedding accessories, and farm-related supplies. Other marketplaces include the Jewish market, which is now a hub for apparel producers and tailors, and the Kazakhkhaneh market, which is frequently frequented by tourists.
8.Bazaar of Sanandaj
Soleiman Khan Ardalan constructed the Sanandaj Bazaar, a bazaar with a rectangular layout, in the 17th century. The Sanandaji Market and Asef Bazaar are the names given to the northern and southern portions of the bazaar, respectively, during the Pahlavi era (1925–1979). The bazaar, which has been designated a National Heritage Site, only has three of its original gates left.
The most diverse stores are located in this sizable covered market, as in the entire nation. The Persians have taken the place of the Kurds. Changes in the strokes, some chevelures shooting on the red, and clearer eyes are also present. See also men who typically wear the following pair of baggy pants: The oldest wear a turban-made scarf. Allow the crowd to move to the center of the stores. Take note of the exquisite jewelry pieces and superior kilims.
9.Bazaar of Isfahan
The Isfahan Bazaar, which dates back to the 17th century, is one of Iran's famous bazaars as well as one of the oldest and biggest in the Middle East. This two-kilometer arched corridor, which connects the city's major gate known as Qeisarieh with the Jame Mosque, is located in the northern portion of Naqsh-e Jahan Square.
In this bazaar, there are stores that have been open and selling the same products for more than 400 years. The largest handicraft market in Isfahan today, this bazaar sells a wide range of goods, including spices, Persian carpets, and handcrafted silver jewelry.
The market and Naqsh-e Jahan Square have both been included as UNESCO World Heritage Sites.
10.Bazaar of Shahroud
In the center of Shahroud, the province of Semnan, is the roofed Bazaar of Shahroud, a location that evokes the Qajar era. One of the architectural gimmicks of the Bazaar of Shahroud that came up as a result of the need for establishing a bazaar in a location with desert climate conditions is the roof and construction of the ceiling.
There are two main routes and five doorways in the roofed bazaar of Shahroud. This grand Persian Bazaar has a mosque, caravanserai, water reservoir, school, and bathhouse among its many features. It is classified as one of Iran's National Heritages. This Iranian Bazaar has everything, from nuts & fruits to apparel and Iranian rugs.
Conclusion
One of the best ways to learn about a new culture is to interact with its members. The optimum settings for these interactions are bazaars. The majority of travelers who visit Iran frequently will tell you that one of their key motivations is to visit such attractions. Iran is home to some of the most amazing old historical bazaars and local markets on the entire globe.
For more information about the Bazaars of Iran and if you are willing to travel to Iran (Iran historical places) and see these amazing Iranian bazaars, make sure to check out www.Tappersia.com and contact the Tap Persia team on live chat or via WhatsApp. The Tap Persia team will patiently guide you through the process.