One of the greatest and most alluring forms of entertainment, particularly on the weekends, is Iran comedy movies. As in most other nations, comedies and satire are among the top-grossing movies in Iran. This demonstrates how enthusiastic the public is about Iranian comedies.
The majority of the time, we observe that the films that the public and audience selected as the finest and most humorous Iran comedy movies at the festival are ones that combine a variety of subjects with verbal humor and situations. Even if an Iran comedy movie sells well at the box office and is well-liked by the general public, that does not guarantee that it is a good movie. It just indicates that it is amusing! The list of the top 20 Iranian comedies will be further discussed.
Iranian Comedy Movies
Undoubtedly one of the most challenging forms of artistic output is Iranian humor. It is necessary for a filmmaker to have profited from fresh art and vision in order to enter this sector. The longer a comedy picture lasts, the more enduring it is. However, no matter how hard a comedy attempts to make money at the box office through humor and, of course, a little linguistic obscenity, it will undoubtedly be forgotten within a few minutes.
The second type is more prevalent in Iran's comedy movies without praise. It's uncommon for a producer of a satirical or comedic movie to make a movie only for laughs rather than for profit, box office success, or recognition.
However, comedies from the first and second groups are among the movies that are released each year and have a sizable following and following. In accordance with audience preferences, Iranian filmmakers often create humorous films for cinematic presentation. The following list includes Iranian movies which are funny, so you can check them out and enjoy a fun time.
1.Snowman (1995)
Snowman is also one of Iran's outlawed and taboo-breaking flicks. Many topics, such as immigration, were not popular in the cinema or even society at the time. However, Dawood Mirbagheri mixed one of society's most sensitive subjects (immigration) with a more sensitive issue (Akbar Abdi in the part of a woman who does not wear a hijab!) and created a lasting workout of these two unique issues.
This Iranian comedy movie had four renowned performers of the time who were also celebrities in Iranian cinema. Dariush Arjamand was one of the most active performers in film at the time, as well as Dawood Mirbagheri's favorite. Parviz Perstavii and Akbar Abdi were two of the most well-known actors of the 1990s.
2.Maxx (2005)
Max is the title of a 2003 Iranian comedy film directed by Saman Moghadam.
An expatriate Iranian lounge singer is mistaken for a renowned symphony orchestra conductor and invited back to Iran to play in this Bollywood-style musical comedy. When this error is discovered, everyone concerned scrambles to conceal their tracks and make the most of the situation.
3.Pavarchin (2002-2003)
The exploits of Tehran-based architect Farhad, as well as those of his family and friends, are detailed in a series called "On Tiptoes." Farhad, who is originally from the fictional town of Barareh, relocated to Tehran to pursue his academic goals. He made his home there and wed Mahtab.
When his cousin Davoud travels to Tehran in search of employment, the narrative begins. Davoud dropped out of school early, and his thick provincial accent reveals his rustic upbringing. Shadi, Farhad's sister, also traveled to Tehran to attend school. An acquaintance of Mahtab's family is Toghrol, an elderly guy who despises everything Barareh does. He assists Farhad and his wife in caring for their property and is quite critical of Farhad and Davoud. The rest consists of all the characters' misadventures and mayhem.
4.The Lizard (2004)
The mullahs were made fun of for the first time in this Iranian comedy movie. We're No Angels and The Pilgrim were both used as inspiration for this movie's plot.
In post-revolutionary Iran, the clergy is the subject of humorous commentary. Reza (Parviz Parastui), a minor offender, encounters a clergyman imprisoned, which prompts the creation of an escape strategy. Reza dons the priestly robes of his new friend and makes an attempt to escape. He quickly discovers that the people do not generally respect clergymen. Reza journeys to the remote areas, where he makes plans to flee the nation. When the villagers welcome him into their society and require him to carry out religious chores, he is forced to postpone his plans. Will Reza become an unexpected pillar of the community as a result of his jailbreak?
5.The Mummy 3 (2000)
The Mummy 3 is an Iranian comedy movie and crime movie that was made in 1378 and released on June 18, 1379. It was directed, written, and produced by Hossein Zandbaf and Mohammad Reza Artman. Parviz Perstowi received a nomination for the Crystal Simorgh Award for Best Actor at the 18th Fajr International Film Festival for his outstanding portrayal of Capt. Ghorbani. This film is a reimagining of Naked Gun.
Captain Ghorbani is a diligent officer who does his duties competently and honestly. He must return the police station he works in as quickly as possible to its original owner. Captain Ghorbani is also implicated in the theft of a mummy in the meanwhile, and while searching for the mummy, he inexorably travels with Behrouz, Kobra, and other characters.
6.The Changed Man (1998)
Mohammad Reza Honarmand is the director of the 1998 Iranian romantic comedy movie The Changed Man.
The creator of a miracle washing powder, Khosro Paziresh, visits a business to pitch his product but trips in the elevator and is taken to the hospital. The company's CEO, Darioosh Jam, is taken to the same hospital where he later passes away from a stroke after learning that his business had filed for bankruptcy. The hospital's transplant doctors place Khosro's brain in Darioosh's body, allowing Khosro to live on in the CEO's body.
7.Dorehami (2016 )
Iranian filmmaker, producer, actor, and singer Mehran Modiri. He is regarded as Iran's most prominent social satirist. One of his most recent productions that combines stand-up comedy with a live-talk show is Dorehami.
Mehran Modiri is the current director of the Iranian television program Dorehami. From March 18 until October 1, 2016, it broadcast on the cable network IRIB Nasim on Thursdays at 21:00 and Fridays and Saturdays at 23:00 (IST), and it will resume on November 4. The first season finale of the program aired on April 6, 2018, and Adel Ferdosipour appeared as a guest. In this show, Modiri interviews famous celebrities while live comedic plays perform on stage during intervals.
8.Leily Is with Me (1996)
All of the pictures of the front and battle that were depicted on television and even in movies before the Iran comedy movie "Leily is with me" were of soldiers who went to the front with love and enthusiasm to defend the motherland. But Lily, who is with me for the first time, gave a pretty hazy account of what happened.
An extremely hesitant and arrogant man who steps forward for personal reasons. So in the truest meaning of the holy defensive genre, this movie is a construct. Without a doubt, Leily is with Me has impacted the majority of comedies and comedy movies about the front and combat.
9.The Man with a Thousand Faces (2008–2009)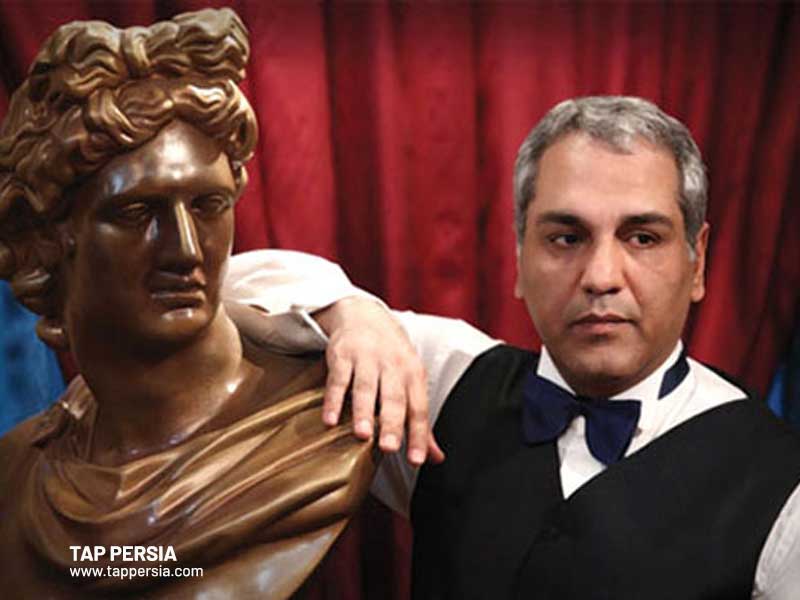 This television show portrays many instances in which it may happen to anyone to be mistaken for someone else while telling a social narrative. This Iranian comedy series was rerun starting in April 2019 on channel 3 of the Sima network, and it was replayed once more during the winter of 2018 on the same network.
The Man of a Thousand Faces' several settings, the use of cinematic animals, and the numerous distinctions between the work and Mehran Modiri's earlier works are its key features. Masoud Shatchi returns as the lead in the second installment of this series, The Man of Two Thousand Faces, which premiered on Nowruz 2008.
10.My Uncle Napoleon (1976)
This is a hilarious version of the same-titled bestselling novel by Iraj Pezeshkzad. situated in early 1940s Tehran around the family estate. depicts individuals with incredibly rich personalities. The title character, who gets his name from his frequent use of the general, is in charge of a fascinatingly complicated extended family. A humorous show that parodies almost everything.
The narrative takes place during the Second World War when the Allied forces are occupying Iran. The majority of the action takes place at the narrator's house, a sizable Iranian palace in the early 20th century where three affluent families live under the rule of Uncle, a paranoid patriarch.
The Uncle, who in reality is a low-ranking retired officer from the Persian Cossack Brigade commanded by Colonel Vladimir Lyakhov, asserts—and by the end of the story, actually believes—that he and his butler Mash Qasem fought in battles to support the Iranian Constitutional Revolution as well as against the British and their "lackeys," and that now that Iran has been occupied by the Allies, the British are planning to exact revenge. The story's narrator, who goes by Saeed in the television adaptation but goes by no name in the book, is a high school student who has feelings for his cousin Leily, the dear Uncle's daughter.
we have recommended you check our article about best Iranian movies from the prominent Iranian director.
11.Man of Many Many Faces (2009)
The follow-up to Man of Many Faces is Man of Many Many Faces, often known as The Man with Two Thousand Faces. Iran begins airing it on March 21. Pejman Bazeghi, Reza Feiz Noroozi, Siamak Ansari, and Borzoo Arjmand are the film's main actors. The series' director, Mehran Modiri, cast roughly 40 additional actors in addition to the performers from the previous season.
There are 13 40-minute episodes in this series. Mehran Modiri is mistaken when he plays "Masoud Shastchi" once more in a variety of settings with other characters including a pilot, a fortune teller, a head football coach, and Mehran Modiri (his true personality). This collection was written by Khashayar Alvand, Mehrab Qasimkhani, and Amir Mahdi Johle. After Peyman Ghasemkhani left the writing team for his works, Mehran Modiri's the Man with Two Thousand Faces became his debut piece.
12.No Men Allowed (2011)
The audience and reviewers unanimously agree that this is one of the funniest Iranian comedy films of all time. It was also put forth for the Fajr festival. The film's star, Vishka Asayesh, was awarded the Crystal Simorgh for best female starring performance, and her portrayal of the school administrator continues to mark a turning point in her career.
At her school, where males are not permitted, severe headmistress Ms. Darabi is forced to hire Mr. Jebeli, a male chemistry teacher. This encourages female students to attempt to forge an emotional connection between Mr. Jebeli and Ms. Darabi under the guise of preparing for the Chemistry Olympiad.
13.Mum's Guest (2004)
The Iranian comedy movie "Mum's Guest" was released in 2004 and was directed by Dariush Mehrjui. It is based on a novel by Iranian author Houshang Moradi Kermani of the same name. The Iranian state broadcaster IRIB's film studio, Sima Film, ordered it. It performed admirably in Iranian theaters and took home several honors at the 22nd Fajr Film Festival.
Mother of two Mrs. Effat (Golab Adineh) learns that her nephew and his wife are coming to visit. With the aid of her two children, Amir and Bahareh, and her movie-loving husband, Mr. Effat (Hasan Pourshirazi), Mrs. Effat attempts to host a presentable dinner party despite her limited resources.
Yusuf (Parsa Pirouzfar), the drug addict next door to the Effats, is in need of drugs right now since his wife flushed his supply down the toilet. Not helping matters much is the odd elderly lady (Farideh Sepah-Mansour) who looks after her chicken. This movie is definitely worth the watch!
14.Sperm Whale (2015)
Reza Attaran and Mahnaz Afshar are the main characters in Saman Moghadam's comedy titled Sperm Whale 2015. Mani Baghbani wrote the screenplay for the film.
Roya, whom Arzhang has loved his entire life, decides not to marry him and travels to America. Arzhang is unable to follow her because, following a failed effort to flee the nation on a fake passport, they refused to allow him to go since the United States is too strong. He was sent to the military to fight in the Iran-Iraq war, which Iraq initiated.
Years after divorcing their initial partners, Arzhang and Roya's paths once more converge. Arzhang is unable to marry Roya due to her sudden infatuation with him and subsequent marriage to a doctor. Arzhang saves Roya from continuing her abusive marriage to the dentist at the conclusion of the film, giving her the option of staying in Iran with Arzhang or leaving for the United States.
15.Homeless (2004)
One of the comedy-social TV shows in Iran is called Homeless. Reza Attaran oversaw the production of this show, which was aired on the Islamic Republic of Iran's third channel.
Masha Allah (Hamid Lolaei), a character in the show, is a poor person who struggles with money. He works with Mr. Bayat (Khashayar Rad), whom he met by accident, to collect money for a trip to Malaysia and delivers it to him, but he is a scammer and takes all the druggist Mashallah, in order to resolve his financial issue. He lives and works covertly at a shoe workshop, where he meets Ahmed (Reza Attaran), Masha Allah. He has no intention of returning home, and …
16.Dracula (2021)
The second season of "the monster" series, which premiered on April 3, 1400, was titled Dracula. This season's episodes last around 55 minutes each. The season's author, Amir Baradaran, and the designer and script supervisor, Peyman Ghasemkhani, are both alumni of the first season (The Monster). Dracula movie production started in February 2019.
In order to display her wealth to others, Jaleh Kabiri, Kamran Kamrava's third wife, invited all of her acquaintances and friends to a birthday celebration. In addition to continuing to participate in money laundering, Kamran Kamrava has launched a new charity for working children and employed Mahyar Mehrafzoon. We're going to meet Kamrava's new friends and family at a spectacular celebration.
17.The Monster (2019)
Directed by Mehran Modiri, produced by Seyed Mostafa Ahmadi and Mehran Modiri, and written by Amir Baradaran, The Monster is a political satire television series created in Iran.
A respected and well-known teacher named Houshang Sheraft is having financial problems, which have had a negative impact on his family. Houshang's mother is ill and unable to pay for the medicine. One day, Houshmand Kamrava, one of his classmates, sends him three false money totaling 50,000 Tomans, which he uses to purchase his medications after learning the requirements for doing so.
At the same time, he meets the highly wealthy and intelligent Kamran Kamrava, whose connections cause him to give up being honorable, accidentally become wealthy with a mysterious amount of money, and later become involved in criminal activity.
18.Bitter Coffee (2010)
The Aghagolian brothers and Mehran Modiri are the creators and producers of the historical comedy series Bitter Coffee.
In June 2009, the series' filming got underway. Bitter Coffee was intended to be made on television and broadcast by the IRIB, but it didn't air as a result of several disputes between the IRIB and the series' creators. It was said that one of the issues between the producers and IRIB was that the producers wanted to utilize all of the series' commercials as payment, but IRIB objected.
Disagreement about the series' intended subject is said to be another cause. The series was subsequently released in VCD format at various locations around Iran when IRIB officials eventually declined to allow Bitter Coffee to air.
19.Fighter Rooster (2007)
The plot of this Iran comedy film is about a husband and wife who don't understand how difficult each other's jobs and responsibilities are and believe that they have much more straightforward circumstances. They decide to work apart for a few days. In order for Maryam and Mahmoud to comprehend the challenges of each other's jobs, they both have jobs as housekeepers and wedding hall managers, respectively. Various experiences take place in this movement.
Unquestionably, War Rooster is a terrific comedy. It depicts a husband and wife who are unaware of one another's employment issues. It is one of the Iran comedy movies that may be watched with kids since it lacks linguistic obscenity. As a result, we advise you to see this entertaining Iranian film.
20.Bee's Sting (2009)
The Bee's Sting Iranian comedy movie is a mediocre film that makes an attempt to change cinematic history. But he has not been able to accomplish the desired history in any way. However, at least it doesn't insult the audience's intelligence, and everything that occurs in the film does so in a way that is amusing and within the framework of earlier Chinese culture. Consequently, we advise seeing it at least once.
The plot of this Iranian comedy movie may be summed up as follows: Asad has an odd job. He saw himself as the ideal protector of elderly ladies. Of course, wealthy senior women! Reza, on the other hand, prides himself on being the finest conman and earns a livelihood off of it. Reza purchases a cheque that Asad drew improperly from a third party. Asad and Reza start interacting more as a result of this encounter. Reza is being pushed into the profession of caring for elderly ladies by Asad.